is also GIGABYTE From a walker
Not only motherboards and video cards from the company have gained popularity in Israel thanks to the price they pay, but also the laptops they manufacture, which are considered high quality, durable and strong despite their relatively low price. GIGABYTE itself has launched a number of mobile phones, with their elegant design reminiscent of a little The ones presented by MSI at the exhibition, But unlike MSI computers, GIGABYTE laptops are not intended for the computer players market, but rather for the mobile Internet device market, ultra-portable computers and of course traditional mobile phones for the business market.
GIGABYTE is trying to conquer the mobile Internet devices market, which is currently being led by the ASUS Eee, using the MID M528. First of all, many mobile devices carry the letters MID in their trade name, because they are actually acronyms for Mobile Internet Device, or "mobile Internet device" in free translation. If so, this tiny laptop contains a 4.8-inch screen, weighs only 340 grams, contains a built-in webcam with a resolution of 3 megapixels and the most interesting detail - a satellite GPS receiver that allows you to turn the M528 into a GPS device for everything. It seems that many companies want to break the hegemony of the ASUS Eee and of course bite into ASUS profits in order to profit themselves from this competitive market.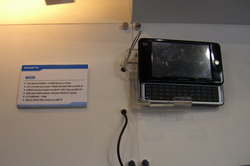 In addition to M528, GIGABYTE is upgrading to a workstation, and launching a new ultra portable, M704. This ultra portable comes with an 7-inch touchscreen and elegant white design that definitely does not shame the amazing mobile phones we saw from MSI. This mobile also comes in weight that matches its target audience, as 780 grams. Needless to say, the M704 supports the latest standards for a wireless network and, like its younger brother, can serve as a GPS receiver for the vehicle.
But not only on the front end of mobile devices, GIGABYTE has something to show but also for mobile-to-work, or better for home theater enthusiasts. According to the company, the W457N and W583N models contain screens of the size of 14.1 and 15.4 / inch respectively, and the built-in HDMI port is ideal for connecting to a huge screen and home surround system.
In addition to the mobile and ultra mobile devices presented by GIGABYTE, the company also announced the development of a number of mobile phones that, like the ultra mobile, can serve as a GPS device, but also support all the features that the 3.5 generation of mobile phones provides. Although these are quite large mobile phones, but they contain a large keyboard (relative to a mobile phone), and of course the ability to run the operating system from Microsoft designed for mobile phones -
Windows
CE. As with modern mobile phones, the new mobile phones also feature an advanced camera with an 5 megapixel sensor.
If all mobile systems are not sufficient, introduced GIGABYTE As well as a number of complete desktops, under the company's new Eagle brand. It is not yet clear which market these computers are designed for, but it is clear that from the moment they are launched, they will have to compete hard with computer systems from older manufacturers, such as Dell or HP, GIGABYTE Can manufacture most of the hardware components itself, and not buy them from third-party manufacturers. From our experience with GIGABYTE, It is reasonable to assume that it will find a creative solution that will attract the market to choose its products at an attractive price, which is particularly important in the Israeli market.