Z97X-UD5H Is GigaBite's new motherboard. It comes at a good price and carries many attributes, so what is the ketch?
chassis
LGA1150
של
Intel
Has been in the field for a year. Since the chassis has been launched,
Z87
Margila
Intel
Its advanced users to a great deal of interfaces on motherboards. Interfaces that allow traffic volumes as never before seen in this market.
The series of aswell processors is being revamped with new models and these models are also added to new motherboards with two new chipsets -
Z97
and-
H97
. as traditionaly,
Z
Designed for advanced users who need more features from their motherboard.
Of the four major motherboard manufacturers, it appears that GigaBite has taken the launch of the innovation a little more seriously and launched the largest number of new motherboards. In fact, the largest number of tablets in the chipset we've ever seen in rollout.
Today in the first motherboard review sent to us by Gigabit with the chipset
Z97
And he-
GA-Z97X-UD5H
. Branding
UD5H
Has existed for several years in Gbabyte's tablets and it symbolizes progress and connectivity while looking at the fast-moving market.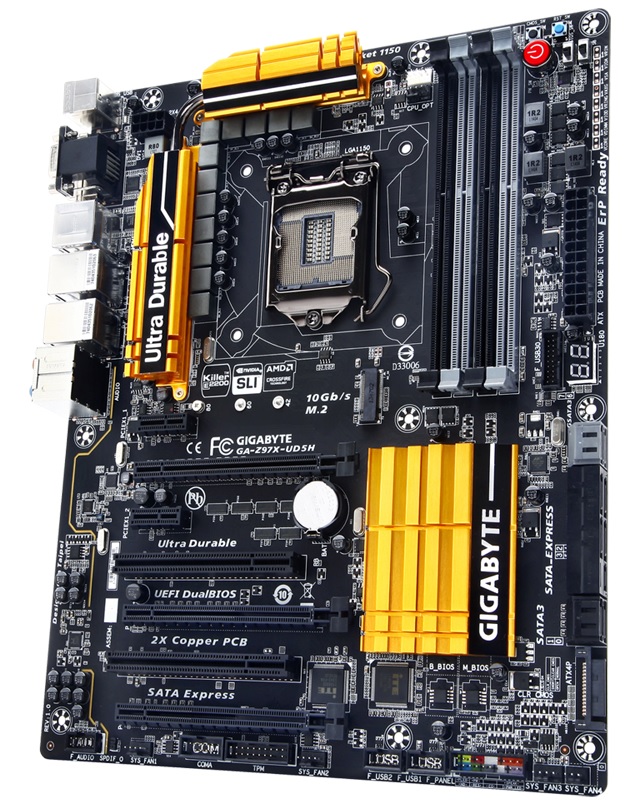 GigaBit's biggest step in launching this is not only the addition of the new connections but also the price. The price of this motherboard is significantly lower than that of its chipset
Z87
.
configuration:

ATX

Chipset:

Intel Z97

chassis:

LGA1150

System memory: Type

DDR3

Up to a volume of 32 gigabytes
Sound Card: Built-in sample

ALC 1150

של

Realtek

Network controllers:

Killer E2201

של Qualcomm With software traffic prioritization built from Intel
Ports

USB

Package: Four of a kind

USB 2.0

Two of a kind

USB 3.0

Ports

USB

Rear: Two of a kind

USB 2.0

Six of a kind

USB 3.0

Storage interfaces: Eight ports

SATA3

, Two of which are used in an external controller. option to-

SATA Express

Instead of two. interface

M.2

Fan Connectors: Six total, two processor and four system
God-
Z97X-UD5H
GigaBite is
Motherboard
Aimed at the professional and ambitious market alike. Along with respectable connectivity,
SLI
And
CrossFireX
And in a rather serious hurry.