EVGA and-Sapphire Today announced that they will be releasing a Mac version of the advanced video cards Anodia and-AMD. EVGA company Get out GeForce GTX680 Mac EditionSapphireRadeon HD7950 Mac Edition Both cards will be designed for modern Mac Pro systems (manufactured from 2009)
A few weeks ago the company Sapphire announced that it would start producing Mac version to Radeon HD7950 Of AMD. Not long after, EVGA also released that it did not intend to leave Mac Pro users behind and intend to spend Mac version of the green side - GeForce GTX680 של Anodia.
The technical specifications of the two cards are the same as their equivalent PC versions, so Mac Pro users will definitely get a decent performance boost in gaming and various editing software.
As the name implies, the cards will be compatible with Mac Pro computers (from 2009) with support for MAC OS X version 10.8.3 and above. There will also be support for Apple's Boot Camp software so an operating system as well Windows Will be supported.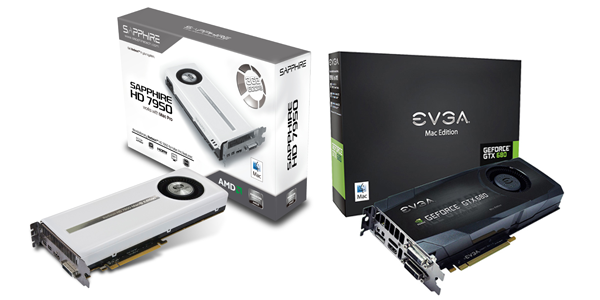 Mac stands at around $ 500 and the price of the GTX680 stands at around $ 600.
Do you think the price is fair? What other models would you like to see in Mac versions? Share it!