As you know, the whole month of October in HWzone is a holiday. A holiday in which the hard core community and all the layers behind it gather and celebrate computers.
OCtober, with emphasis on the OC was born when the site team decided to pick up an event of competition Overclocking (Speeding) will be attended by surfers. The competition we held several times since then and October OCtober caught more and more volume and became a month of competition for all hardware and computers.
After a year of activity, our sites are pleased to be at the forefront of computer sites around the globe in community activities, in quantity and in the value of prizes. This month we take it even a step further.
As is known by its second name, the festival of hardware is full of every good for the technological surfer. This year we have prepared for you and with you the greatest OCTober month ever. Much more original content, much more entertainment, much more competitions.
Prepare for a larger, faster, more powerful OCTober. A pinch of what is expected this month: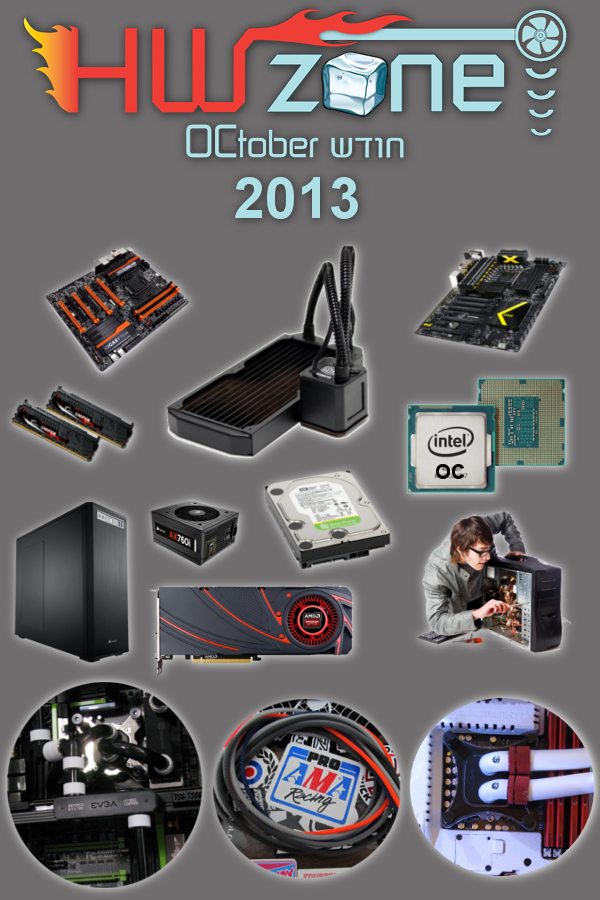 This month you will learn the fast processor Haswell, You will know how much and how fast graphic cards. This month you will learn how to make your computer unique to you. You will learn how old hardware copes with the everyday use of 2013 and how to upgrade.
OCTober 2013 places great emphasis on learning in the field of computers and consumer goods and we are pleased to continue in the 12 year to develop a rich and diverse community.
All of you will have an enjoyable and educated OCtober, HWzone.co.il team
You are invited Prove that you are equal to advanced cooling The competition froze the computer!