Salman introduces a system Cooling Liquid for the processor, the first of its kind in the world, that uses liquid nitrogen.
The popularity of water cooling has been gaining momentum in recent years, and Zalman has not had to. The new system was presented at the beginning of the year at the CES 2013 exhibition and now Zalman releases it to the general public.
Baselman claims that
Generator 3 Max
He's a body
Cooling
The first water of its kind in the world that uses liquid nitrogen. Nano-liquid is actually a liquid that contains nanoparticles and basal liquid, these particles are usually made of metal, oxide or carbon and the base liquid in this case is water.
By using a liquid, the system
Cooling
The new offers better thermal conductivity relative to the normal cooling, in fact up to 400 watts. The system includes the following technologies: Radiator with ribs
Cooling
Minutes of copper ensuring improved airflow, "
"Quadro Cooling Path
Which offers two copper pipes in a configuration that simulates four pipes, a block
Cooling
Made of ribs
Cooling
Dense copper and a quiet, powerful pump that draws 90 liter per hour. For those who are not enough you can add another 12 cm fan to the radiator.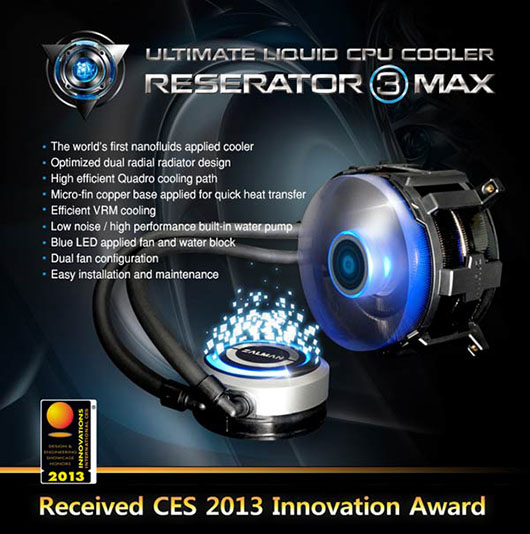 When it was first exhibited at the CES 2013 show earlier this year, the Max Reserator 3 won the Innovation Award.
Like Zalman's chords, the main concern here is the inability to change or find an alternative fan if damage to this fan is damaged. Many of Zalman's purifications use an exposed fan as described in the picture and the risk of injury is high.
God- Generator 3 Max Comes with brackets suitable for most modern processors and boards. Supported seats are AM and FM series AMD And reside in LGA115X, 2011 and 1366's Intel.
The new cooling is currently only available in the UK and priced at £ 83.33, it is expected to be sold in the US for around 100 dollars.