Wii, the popular console from home Nintendo Wii, Appeals mainly to the female audience - and this is not a coincidence.
Many ask themselves why girls are not attracted to computer games and game consoles, just as boys are attracted to boys. Nintendo, which is well aware of this problem, is doing everything to attract the female audience that could bring huge profits to the company. According to information published by Nintendo in the US, the game console, which is the company's flagship (Wii), actually attracts a large number of girls - compared to other consoles on the market. The success of Nintendo Wii, Apparently significantly raised women's awareness of the console - It can also burn calories.
Surveys conducted in recent months in the US, It appears that there are about 11.7 million women playing on consoles - this compared to 33.3 million players of the male sex. 80% of women who play consoles in the US, play on the Wii, and even prefer it over the other consoles - this despite Its disadvantages, Most of which Nintendo has indeed repaired or is still making efforts to repair. The surveys also show that 11% of women prefer theXbox 360, and the remaining 9%Playstation 3.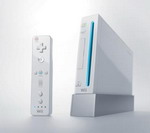 If you have one - there is a 25% chance that you are a girl
According to the president Nintendo Wii, The data is not surprising at all - this is due to special adjustments made in the console by the company's engineers - especially to the women and children audience. Among other things, the game signs of theWii Made of lightweight materials - which allows anyone to easily move the game remote and enjoy the experience. In addition, the technical operation of the console is easier than the other existing consoles on the market.
So she lured Nintendo Wii The women in the world should also start using game consoles, just like the men. As a result of these data, it is very possible that more and more games will be created in the market to cater to the new target audience: more games ספורט And less action games and shots.