After unveiling the technology last year, NVIDIA is now introducing the technology at the CES 2008 exhibition.
SLI Hybrid,
Technology introduced last year
By NVIDIA, allows the use of a pair of video cards to conserve the total power consumption of the computer system. The technology is reflected in the fact that when there is no need for 3D processing, the powerful and unstructured video card will be automatically turned off, and the built-in video card will need a significantly lower power consumption. Moreover, when 3D processing takes place, the built-in video card can help with the unstructured graphics card, which creates an SLI array in the full sense of the word.
The names of the various operating modes that the technology will use have been revealed: HybridPower - with the cessation of XNUMXD processing, the completely unstructured video card will be turned off and the built-in video card will go into operation. GeForce Boost - In this mode, the two video cards will be activated simultaneously.
Unfortunately, NVIDIA has not yet released a driver that allows automatic switching between the two modes of operation, which will require a complete reboot of the computer system. NVIDIA promises that it will have such a driver in the future, but there is currently no fixed date.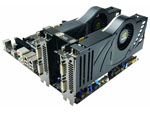 NVIDIA SLI array of cards
NVIDIA plans to launch a new line of SLI-compatible products later this year, which will include both video cards and chipsets. Among these chipset is the nForce 780a SLI, 750A SLI, and 730a, which, as can be inferred from the name, are for processor-based computer systems
AMD
. These chipsets will be released next month, in addition to the GeForce 8200 series - the first graphics cards to fully support technology. Chipsets designed for processors
Intel
Which support the technology will be available later, probably later this year.