AMD quietly launches another video card - Radeon R9 250X

Quietly launched in recent days I HAVE D An additional video card called Radeon R7 250X. This video card is designed to fill space Empty between R7 250 and R7 260X on the market. The thing is ... that this empty space never asked to be filled.
Get updates from us all at TelgramJoin the channel now
Technical Specifications - Radeon R7 250X
Core: Cape Verde
Production Process: 28 nanometers
Quantity of processors: 640
Processor frequency: 1000 MHz
volume זיכרון graphic: One gigabyte, 2 gigabyte
frequency זיכרון graphic: 1125 MHz
Memory bandwidth: 128 bit
Brown Shell: 95 watts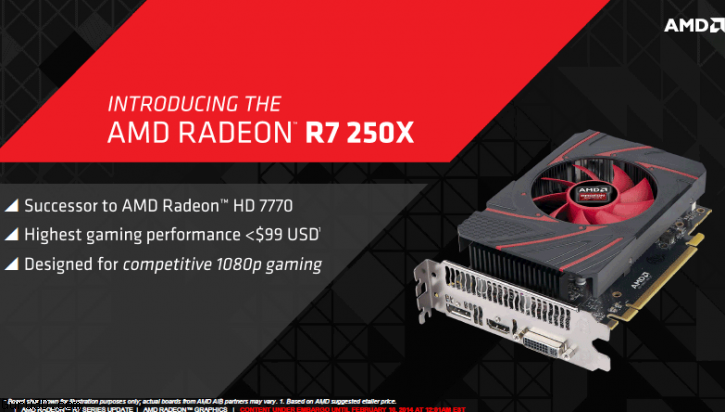 Ladies and gentlemen, this is HD 7770. The R7 9 launch price is 7 and it puts it exactly where HD 250 has been so far, so remember that if you see HD 100 cheaply from -R7770 7770X, you'd better just take the HD 7 I HAVE D Was still shave 10 dollars from the head of this video card.
R7 250X's performance will be suitable for many users, especially strategy players and HD-Ready 1280X768 monitors.
Availability of R7 250X in stores is expected later this month.