The manufacturer of the peripheral equipment presented at the exhibition

CES 2010

Traffic controller radio For PC - Get to know the next Wiimote
This week at CES, she unveiled
Razer
A revolutionary traffic controller developed specifically for the PC in conjunction with Sixense (a semi-Israeli company), which, like Wiimote's
Nintendo Wii
, Control the computer by moving it through the room. In contrast to the technology used by the C-
Wii
(Infrared), the Sixense controller works by creating a weak magnetic field within a radius of about 2 meters from the base - through which the movement of the signs in space, which contain magnetic coils can be detected. The technology, known as TrueMotion, gives much more precision than that of the Wiimote, and allows a complete match between the movements performed by the player and the movements that appear on the screen.
The motion controllers we have known so far have all been based on accelerometers or cameras - inaccurate methods, the main disadvantage of which is the short (but noticeable) delay created between the movement performed by the player and the actual movement of the game or any other application. Sixense's controller, as mentioned, is based on creating a magnetic field around the player; The field is disturbed by the motion controllers held by the player in the hand, which contain magnetic coils, which allows the device to detect the position and speed of the signs in space, calculate the acceleration, and convert the motion with great precision to the movement of the character in the game.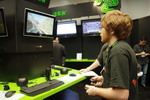 One of the Sixense developers demonstrates the operation of the controller
While the technology is still not perfect,
Razer
(Who intend to market the device when it will mature in a few months) have realized that they have a very effective tool that can bring the company profits in the coming years.
Although there is still a minimal delay of about 40 milliseconds in translating traffic to computer commands and controlling an error range of 1 mm or a single degree, in the game Left 4 Dead 2 on which the controller was demonstrated at CES this week, these shortcomings were not significantly reflected.
B-
Sixense
Of course, we promise to improve the technology and create the most accurate motion controller available on the market, and even - perhaps - create separate versions for consoles, which may prove problematic in light of the fact that Microsoft's NATAL project (motion detection system for the console
Xbox
360) is expected to reach the market this fall.
Sixense is already working with Valve on integrating the technology into other games of the company, as well as future games,
Razer
Hopefully they will be able to launch the final product within a few months - which will strengthen the company's position as a leader in the field of peripherals for gamers in the world.
PC
.