The new Asus tank
Last week, Asus made the annual opening at our home with the presentation of the motherboard Maximus V Formula. There is also another side, the side that takes a little back from the rather ambitious approach and focuses on durability and reliability above the competition.
Asus SABERTOOTH Z77

- Characteristics
chassis:

LGA1155

Chipset:

Intel Z77

Fix Size:

ATX

standard
Ports

USB 2.0

: 10, 6 for the chassis and 4 from the back
Ports

USB 3.0

: Six, 2 for the chassis and 4 from the back
Ports

SATA III

: Four, two of them operate through chip Third Party
Ports

SATA II

: Four, all through the chipset
Memories support:

DDR3

Up to a speed of 2800 MHz (accelerated), maximum volume of 32 gigabytes
Unique key features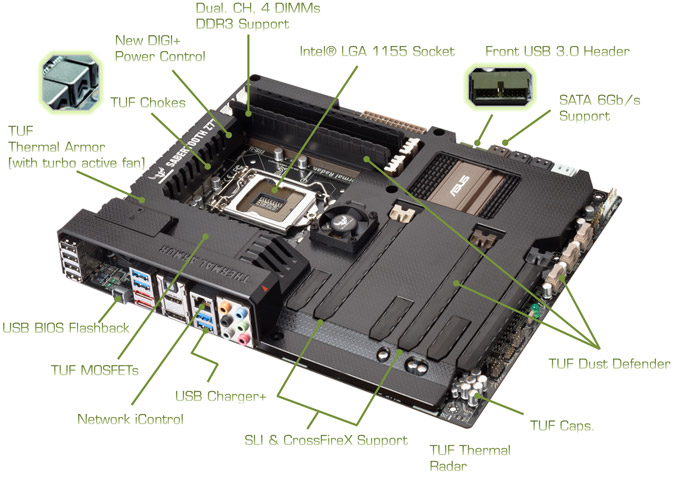 Who gave birth to a thermite

(Thermal Armor)
- The most prominent feature of this motherboard. Most of the motherboard area covers a plastic chassis that prevents dust accumulation on components. Fans can be installed to control the flow of air under the child, although it does not cover especially hot areas.
Digital voltage stabilizers

DIGI +
- Use of these advanced digital stabilizers in the most advanced motherboards
Asus
As in the series
Reppublic of Gamers
. These voltage stabilizers ensure stable voltage monitored at all times.
In addition, the motherboard utilizes high-temperature, high-life-resistant capacitors.