Steamed is always healthy
Happy new year everyone, in the world business cards as usual. Today it's the turn of a video card that many crave and thirst for information - do not worry I'm here to answer all the questions. Today is the turn of
R9 280X
Version
Vapor-X
From home
Sapphire
.
Radeon R9 280X
Is actually
HD 7970
Which is rebranded brand. It carries frequency
Core
Faster than
HD 7970
Which was launched two years ago.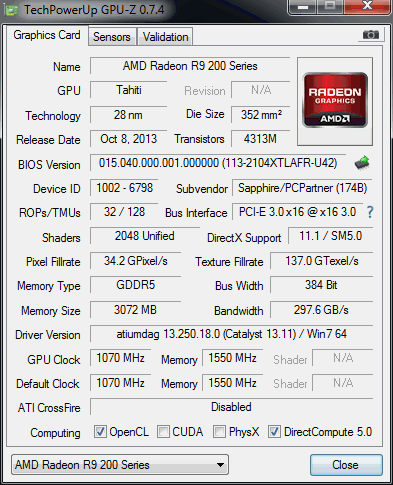 The graphics core that sits on the
R9 280X Vapor-X
Is called
Tahiti
And it contains 2048
Processors
United. It is manufactured in 28 nanometer process of factory
TSMC
In Taiwan. Them 2048
Processors
Operate at a frequency of 1070 MHz during effort and are connected to the controller
זיכרון
Volume 384 bit. The graphics memory on the graphics card is 3 gigabyte and it operates at a frequency of 4-channel 1550 MHz
GDDR5
. This brings the data traffic speed to almost 300 gigabytes per second.
In this critique, I will focus mainly on cooling and its performance. Of course, the performance of this video card in games is important but not new to most of you. the mother
Sapphire
Created a video card that promises? Is it worth investing in the Vapor-X version? Is it noisy? All answers in this review.