A way to connect an external video card to a laptop using the connection from Intel Already under development

When Intel Introduced The Thunderbolt connection Its new (and Apple's) earlier this year, the ability to connect an external video card to the system was one of the most efficient and promising uses we had in mind - after all, a two-way connection at speeds of up to 10 Gbps in protocol PCI-Express Is a pretty impressive achievement.
Now the idea seems to be picking up momentum courtesy of Village Instruments, Manufacturer of ViDock products Which specializes in the development of external enclosures that allow to connect a video card (external) to computers Mobile.
The company's CEO posted a message on Facebook, in which he 'wondered' how many people would be interested in developing a means of connecting external video cards based on the Thunderbolt, noting that if 50 people respond and show interest - the company will consider it. Users brought in the CEO Announce the beginning of development Of the "Thunderbolt ViDock" in just a few days.
This is one of the most interesting concepts that can be described - today's laptops often contain Processors Advanced processors with considerable processing power and a generous amount of memory RAM, When in most cases the graphics processing is the weak link in the system, and users now have to choose between a basic and relatively cheap graphics solution, and an "advanced" but also very expensive graphics solution, and one that often makes the laptop much less Mobile.
An external means of connecting a video card offers the ultimate solution to the issue - the consumer can choose an easier and cheaper mobile to use "on the go", and when he gets home he can connect the mobile to an external and powerful video card - and turn the same computer into an advanced system. Movies High-quality games, professional software and more.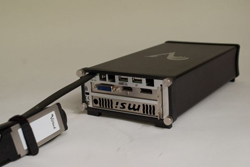 ViDock, soon in the Thunderbolt version
A similar solution has been seen recently On Sony's Vaio Z, With a "media stand" offered to consumers, which included a dedicated (portable) video card, which could be connected to the laptop using the connection in question from home. Intel And give him a little more juice.
The concept of Village Instruments should be more advanced, because it will allow the connection of a stationary video card to the mobile system - which will give the consumer freedom of choice, and allow him to get more power at a cheaper price (today and stationary video cards significantly cheaper than their mobile siblings).
Naturally, there are several additional hurdles that need to be overcome in order to bring the promising idea for implementation:
As of now, the Vaio Z mobile and Apple products are the only ones that contain a connection to the Light Peak technology (which is still referred to as this name sometimes because Apple has exclusive rights to the name Thunderbolt, Ostensibly), and it's not clear how long it will take for technology to become a "must-have accessory" for any laptop - and if that happens at all. In fact, Village Instruments' CEO's appeal was specifically aimed at home computer owners Dark, And this is indeed a logical step considering the current market situation, it is difficult to ignore the option in which the connection will remain mainly used in the company's computers in the future, and will not become a universal and widespread connection.
Until now, the company's ViDock products were based on the ExpressCard interface, which created a significant bottleneck for the video card that connects to the system. ConnectionThunderbolt Although it offers a maximum bandwidth of about 4 times that of the ExpressCard, the same 10Gbps is still "only" equivalent to the connection PCI-Express X4 first generation, or connection PCI-Express X2, and will not be able to avoid the bottleneck in full.
Despite all this, there is certainly room for optimism, as various tests and performance tests have already shown that various video cards can offer a reasonable level of performance even under this type of bandwidth limit - so connecting a 'stationary' video card should still be quite cost effective compared to other consumer options. .
Another possible problem is the price of the future "Thunderbolt ViDock" - the prices of existing ViDock products range from $ 200 to $ 280 (excluding shipping), with the price of a product based on the technology of theThunderbolt "Freshness" can be even more expensive, and it certainly seems like a weighty consideration for users (and one that has apparently prevented these solutions from becoming more accepted so far), when only those who require extreme graphics processing power or are willing to invest a considerable amount of money in order to Enjoying a lighter mobile would be really interested in such a product.
We are hoping to see the new ViDock come to the market and prove itself, in the hope that this will lead to an interest in the subject, which in turn will make the concept more accessible and cheaper (who knows? Precisely On the planned external PCI-Express connection) - because the potential is great, without a doubt.