introduction
In recent years it seems as if the market for air purifiers is falling from its grandeur. Closed-circuit watercourses of companies such as
Antec
and-
Corsair
Managed to win a warm corner in the hearts of hardware enthusiasts and haste. The water coolers offered light installation, zero compatibility issues with boards and memories and excellent performance that in some cases were even superior to advanced air cooling.
But not everything is perfect with the chills of water. One of the major drawbacks of water chills is the dependence on the area of ​​heat emission from the processor. In order for closed circuit water cooling to successfully dissipate the heat from the processor, the area of ​​heat emission from the processor should be as large as possible. In the case of Intel processors,
Nehalem
From home
Intel
It worked fine, but a few years have passed and the processor market has changed a lot. In the
Sandy Bridge
של
Intel
The cores and caches (the hottest parts of the processor) were reduced and integrated
Core
Built-in graphic that emitted less heat or was generally turned off by most enthusiasts. Even then it was possible to see the air-bursts of the executioners begin to close the gap (which was never bigger) than the water curses.
When Intel Has moved to a production process of 22 nanometers (processors Ivy Bridge and-Haswell) The cores and the cush area are even smaller, causing the aircrews to close completely (in these processors) and cling to the watercourses.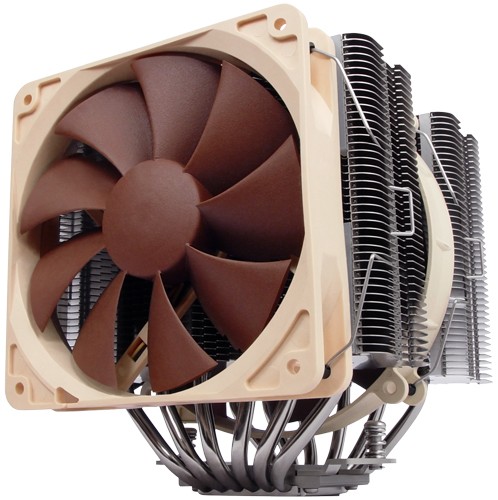 Company
Noctua
Is an Austrian company established in 2005, specializing in the production of air coolers and fans for the medium and high market. According to the company website, its products have won over 1000 awards from visitors for their products. For me, a company
Noctua
Is the best air cooling manufacturer in the world for several reasons:
The amazing construction quality of its products.
The company's website contains information about the company's cooling compliance to almost all motherboards available on the market.
Customer Service - 775 to 1156 The company supplied its customers with free kits for 1156. And even today, if the docking kit is Cooling God-

Noctua

Which you bought is not suitable for your motherboard (mainly because of electronic components at the back of the board) the company will send you a free docking kit suitable.
The excellent performance of their refrigerators
Today, Asker has two new and fanatic clarifications from the company Noctua:
Noctua U14S

Noctua U12S

Noctua NF-A15 PWM Fan

Let's see how these new curls are screwed into the performance tables.