ThermalRight's popular thermal cooling system will soon have a heavy-duty copper-heavy twin, designed for the Extreme market.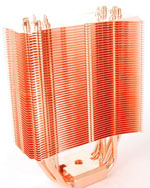 Lots of copper
The material from which the heat sink is made has many advantages, but also disadvantages. Copper has a better convection capacity than aluminum, but a copper heat sink is more expensive to manufacture and weighs more heavily than aluminum of the same size. For these and other reasons, the company releases 2000 units only, when it is obvious that the overall demand for the cooling system is lower than the rest of the company's products. For those who are planning to buy one of these, you should hurry.
Although the price may not be a problem for performance enthusiasts, there is a problem that everyone will have to deal with, which is the transfer of the computer system from place to place because of the enormous weight of the heat sink: 1.9 kilograms. According to 2 comparison To the normal version of the heat sink, Which weighs only about 790 grams. With the new heat sink, the motherboard will be under a very large physical load, so the heat sink is not suitable for people who often hang out with the computer for network parties.
The copper version was first introduced At the 2008 Computex Exhibition, And the rumor that weighs as 3 pounds proved to be incorrect by ThermalRight. The heat sink supports all Intel and AMD residency, and contains Also optional support for the LGA1366 chassis New from home Intel. The final launch date is not yet known, but when it is launched, it will probably be the most efficient heat sink available, according to the report Thermalright.