Supercomputer IBM Will be engaged in the sale and marketing of supercomputers?

IBM, One Of the experts The largest secrets in the field Supercomputers, Showed exactly a few months ago what it's worth when Watson, its sophisticated supercomputer based on DeepQA artificial intelligence technology, Did not leave much of a chance To his human competitors at the Jeopardy Trivia Show !.
After that impressive display of purpose, the inevitable question "what do you do with a computer that is terribly good at answering questions" arose, when the answer spoke of uses in the field of medical diagnostics.
Now, it seems that IBM Find more use To Watson, which even makes a lot of sense - sales, marketing and customer service.
Marketing and technical support people of all kinds are known for their fondness for working in "templates" that are familiar to them in advance, and it certainly sounds like a role that Watson, who actually functions as a giant search engine that specializes in absorbing spoken language and translating it as required, can perform.
Imagine Super Computer He can understand exactly everything you tell him, and he will have a wealth of information that can answer any question that comes to mind - would you be willing to give up the "human touch" in such a case?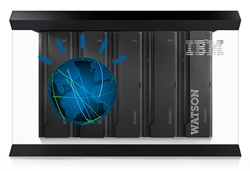 Your new colleague?
In fact,IBM They are so convinced of Watson's ability in the field that they themselves have announced that they will use it - for the purpose of marketing Watson computers to potential buyers. Two birds with one stone? Check.
B-IBM It is argued that in its current form, the supercomputer is not intended to replace the human worker, but to help him, but it seems that if the level of control in his trivia can be translated into a similar level of control over customer questions - there will be those who will not hesitate to give up "Bonebags".
As it seems at the moment, Watson's biggest limitation, like any supercomputer, is the price - IBM does not reveal the price they will charge, but given the fact that it consists of 10 server farms containing 2,880 processing and memory cores RAM Of 15TB (yes, terabytes, that's not a mistake), its price is expected to stand at a few tens of millions of dollars, and it's a gamble that not many will be willing to take before they are completely sure that the investment will be "repaid" to them eventually.
Whether this is the beginning of the end for the entire customer service community, or whether it's big promises from home IBM That they disappear as fast as they appeared? You are invited to express your opinion.