Looking ahead
What else can you tell us about the next line of products, MyBook?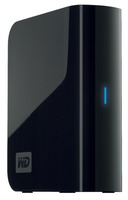 My Western Digital MyBook
Today the series is divided into 3 subsets, the main difference being the connection interface. The first version, My Book Essential, includes a USB connection only. The second, MyBook Home Edition, also includes an eSATA connection that has been gaining momentum recently and should be more efficient and faster than the standard USB connection. The third group is called Studio Edition, and is primarily intended for Macintosh users who need a FireWire 400 / 800 connection, but also receive the other two connections on the same drive.
Another important feature is the new backup software. The product today is much easier to use. For example, it is necessary to configure the software only once, and then each time the drive is connected, it creates an automatic backup in a transparent manner. "
At this point, Daniel stopped us and, in a proper manner, told us a little about what had happened in recent years:
"Several years ago we found ourselves at a technological disadvantage. Competitors had products that were simply superior in terms of performance. Since then we have revolutionized, and today our situation is at least as good as that of competitors in all areas, and in many cases far exceeding them. We decided to start with the production and marketing of 3 "mobile drives. We have since established our control in this area and today we hold a market segment of about 2.5%. Another interesting statistic is that Passports make up about 20% of the company's total product production, which indicates their success. We believe that the design of the product and the simplicity of its operation have contributed to significant growth in such a short time. "
We would like to hear a little more stuff about future products, and plans for the near future.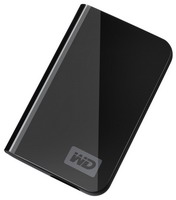 Western Digital Passport
"I can not reveal technical information yet, but this year we will launch new and revolutionary products from the Raptors series. Without going into exact numbers you can say that there is something to look forward to, and these will be very fast and high volume products, unlike before. At the time we launched the Raptors To our great surprise, gamers have also jumped on the bargain, so today we are definitely targeting the products for this market - both in terms of price, which will not be low but definitely reasonable for gamers, and in terms of product design that will be innovative.
Another area we have established ourselves in is the field of AV drives. About 4 million units of this type have been sold so far, and these are very quiet drives for video conversion devices and digital media storage. "
How does WD see itself today in front of the competition, and especially the big competitor - Seagate - that has merged with Maxtor?
"As I mentioned, technologically we are definitely leading today. We were the first to release an eco-friendly 1TB drive with a reduced power consumption of about 40% and we are the strongest in the external drive market, despite the very late entry into this competitive market. "Only 0.9% of objective data collected from sites that conduct special tests on this subject, which indicates that our products are particularly quiet and cool and consumers are very satisfied with them."
We concluded the interview with a pleasant smile, and the conclusion we drew from the impressions is as follows. Western Digital She does not stop for a moment. As a large and well-known manufacturer, it decides to take steps that are characteristic of a new company (branding, marketing, design). This process certainly proves that it is always possible to rebrand and reorganize, regardless of the size or existence of the company.