In addition to the CPU coolers, the Korean company exhibited at an exhibition

Computex 2012

Also mice, a variety of keyboards, speakers, power supplies, enclosures, graphic cards And even agree
a notebook
Zalman
, Who is visiting the exhibition
Computex
Every year, we are used to seeing mostly my body
Cooling and packaging
- but the trend that began last year (and only gone
And intensified
) In which the Company expanded its production areas continued to overcome. Also in the exhibition
Computex 2012
She tried
Zalman
Show the world that it is not just another body manufacturer
Cooling
Standard, since apart from its cooling solutions it has also introduced a wide variety of peripherals and graphics cards.
Among the range of new cooling fixtures introduced by the company,CNPS14X: This is a copper body with an 140 mm fan located between two sides Cooling Awesome - when interested, you can also add two more 140 mm fans on the sides of the ribs to get a total of three fans in total.CNPS9900F: This is a single 140 mm fan body located between two ribs Cooling, Between which a pipe passes Cooling Special. In addition, two more 140 mm fans can be added to this body as well. The price of the cooling units in their basic version will be about $ 50, which is expected to land in markets next month.
Get updates from us all at TelgramJoin the channel now
In addition, the selection of video cards presented by the company was conspicuous, among other things you could see cards manufactured AMD Of the models HD7750, HD7850, HD7950 And also made cards Nvidia Type 550 GTX Ti and-670 GTX Ti, All of course 'refined' with clarifications by Zalman.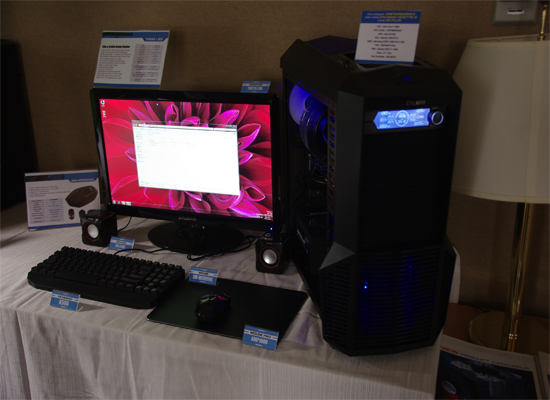 A complete system based on Zalman products, as presented at Computex this year
In addition, the company also introduced a variety of cases, cooling surfaces for laptops, a variety of keyboards (mechanical, multimedia and ordinary) and even a drive Flash SLC (Removable single level cell) Removable mobile type USB 3.0 With approximately 16 gigabytes of volume storage.