The famous sound company

Creative

Recently launched the "

Sound BlasterAxx

: Includes speakers supported by devices Android and-

iOS

, With an innovative touch screen at the top
Recently we encountered a variety
speakers
Mobile
Which are able to synchronize more easily with the wide variety of gadgets that exist today in the world of computers,
Creative
The veteran Singapore-based company wants to stay in the loop. Recently, the company launched the series of speakers -
'SoundBlasterAxx'
Which is designed for a variety of platforms: for PCs, Mac computers, and smartphones and tablets
Android
and-
iOS
.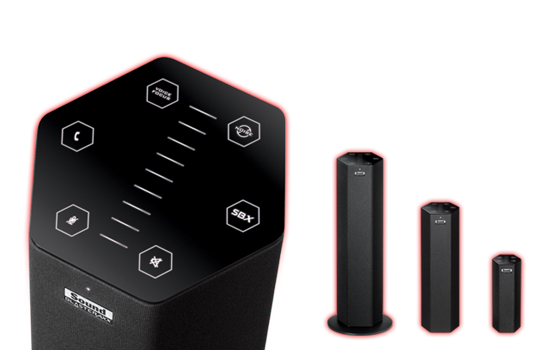 The SoundBlasterAxx speaker in the three sizes and the innovative touch screen
New speaker series
Creative
It basically consists of one speaker which is available for purchase in a variety of sizes - when its rectangular and strange look may well raise questions. God-
BlasterAxx
Is actually built of two built-in speakers that are included in it in a special structure called the manufacturer
'Stacked Stereo'
: This is a patent that allows for the separation of stereo sound is especially felt,
'SBX Pro Studio Surround'
של
Creative
So the user gets an audio experience that is considered to be a quality relative to a single portable speaker. It is also possible to synchronize the speaker with the devices
Unlocked
And tablets using technology
Bluetooth
(And installed
application
Designated as
'Creative Central'
Which is available both in AppStore and Google-Play), when users
Mac
Windows
You can also enjoy the speakerphone through a connection
USB
Standard for PC. In addition,
Creative
The speaker to support voice recognition features that today include smartphones and tablets (such as
Crab
), As it also includes two microphones - so it can be used for audio and video calls as a microphone for anything and everything, while being
speaker
.
The most innovative option offered bySoundBlasterAxx של Creative Is its illuminated touch screen: through which it is possible, among other things, to set audio modes, mute the microphone, control the volume and silence the speaker. However, the speakerphone is not included battery So if you want to connect it to your smartphone or tablet you need to use a cable USB, Which is definitely a disadvantage. The said product is available in three sizes, with the height of the modelSBX 20 The largest is 41 centimeters and the two-SBX 10 and the-SBX 8 Lower than it is quite significant and of course much less powerful than it. New loudspeaker Creative Will be available worldwide as early as July,SBX 20 Will cost about $ 200 while the two cheaper models will cost about $ 150 and 100 $, respectively.