A number of European and American researchers have developed a new virtual keyboard designed for large tablets and smartphones, which may well be a more convenient option than the keyboard,

QWERTY
While tablet PCs are becoming popular and smartphone devices continue
grow
, It seems that the experience of using the standard virtual keyboard on devices with large touch screens has become cumbersome. As a result of the growing problem, several researchers at the University of St Andrews of the Max Planck Institute in Germany and another team at the University of Montana in the United States decided to develop a virtual keyboard that would be more natural for devices with large touch screens.The new keyboard,
KALQ
"Has already been marked by many as the official replacement for the keyboard,
QWERTY
- and is expected to soon be integrated into a variety of gadgets.
As the picture shows, the new keyboard was developed for typing using only two thumbs. According to reports, it allows fast typing in 34% compared to the standard keyboard.
On the left side of the keyboard the researchers placed a set of 16 keys, while on the right side were positioned 12 keys. The idea behind the key position is to reduce the distance on your finger to hundreds of letters, so letters that are often used close to each other are intentionally placed in the same group.
The researchers placed most of the movement letters
vowels
) On one side, while the consonant letters and most of the initial letters were placed on the left. Left-click users can change the group locations for their convenience, and you can also change the physical size of the touch buttons.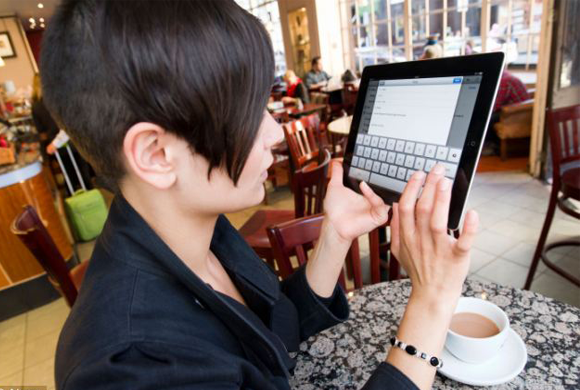 The QWERTY keyboard requires special skill in using large devices ...
According to studies published online, using the keyboard format
QWERTY
You can write on a computer
טאבלט
No more than 20 words per minute. Keyboard
KALQ
, However, will allow you to write no less than 49 words per minute (after several hours of experience).
"The standard keyboard structure used by computers
Mobile
And stationary is not suitable for virtual keyboard on tablets. Keyboard
KALQ
Certainly a more convenient option, "says keyboard developers.
The new keyboard can be downloaded as a free application on all devices from the coming days,
'CHI 2013'
Which takes place in Paris. As of now, it is not known whether it will be available in Hebrew only in English.