The giant Redmond shows a tablet Windows 8.1 Advanced with Windows Vista Ultimate chip Core i5Haswell, Upgraded screen, life battery And more
The original Surface Pro tablet Microsoft brought a gun into a fist fight when it set up a full 8 window and Core's chip Intel As a competitor to Dark And the Android world. It was an impressive device with good usability, but at a starting price of $ 899 it was closer to other ultraboks than to other products on the tablet market.
The tabletSurface The new Pro 2 maintains the advanced hardware and corresponding price tag of its predecessor, although this time Microsoft seems to have been able to brand the device as a tablet for professionals and advanced users, rather than as a direct competitor to devices that cost half or a third of it.
In the Surface Pro 2 you will find a 10.6-inch ClearType screen with a resolution of 1920 × 1080 pixels that promises to provide particularly good color accuracy, the Corewell Core i5-4200U chip (a pair of processing cores at a base frequency of 1.6GHz and a maximum turbo frequency of 2.6GHz, support for -HyperThreading and HD4400 built-in graphics core), 4GB or 8GB RAM, drive-based storage SSD (Unlike other tablets that are based in most cases on eMMC with significantly less performance) between 64GB and 512GB, Windows 8.1, touch pen, pair of 0.9 megapixel cameras, full size 3.0 USB connection, mini connection DisplayPort, MicroSD card slot, connectivity Wi-Fi and-Bluetooth 4.0 and 42 watts-hours.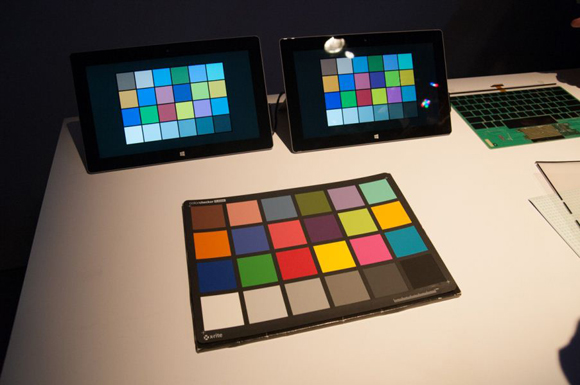 ScreenSurface Pro 2 (right)Surface Pro shows that an enlarged resolution is not the only way
Improve screen quality
Microsoft has announced that the switch to the SAS chip gives Surface Pro 2 better graphics performance on 50 than the first Surface Pro, plus an improvement of no less than 75 in battery life, which means that the Surface Pro 2 is expected to offer eight Up to nine hours of work (since the original Pro was characterized by my life battery Declared 5 hours only).
This is an impressive and important leap forward,Surface Pro 2 is a much more practical product than its predecessor.
Buyers of the Surface Pro 2 will be entitled to a number of more or less useful "bonuses" - a year of free international calls to landlines in 60 different countries via Skype, a free month in the company's online Office 365 service and also volume storage Of no less than 200GB on SkyDrive, free for two years.
Like the original Surface Pro, the price of the Surface Pro 2 (which will reach the stores on 22 in October) will start at $ 899 per version with 4GB RAM and drive SSD Of 64GB. A doubling of storage will bring the price to $ 999, with even more expensive versions offering 8GB of RAM and a drive SSD Of 256GB (price of 1,299 dollars) or drive SSD Of 512GB (price of 1,799 dollars).
Such as the Surface 2, The Pro 2 also features an improved foot that now offers two position modes at different angles
The Surface Pro 2 is compatible with all the accessories of the Surface family.More information about them can be found here), Including a dedicated docking station for the Pro devices that offers an electrical connection, one 3.0 USB connection, three 2.0 USB connections, an Ethernet connection, a pair of audio connections and a mini connection DisplayPort.

The docking station of theSurface Pro and theSurface Pro 2. Launched early next year, will cost 200 dollars
The Surface Pro 2 is a powerful and impressive tablet, but like his brother The Surface 2 He is also expected to have a very simple competition from them Windows - based tablets Discounts that will be based on Generation of Bay Trail chips של Intel.
While the Pro 2 offers significantly higher processing capabilities and more advanced components, it is also much more expensive - it is not inconceivable that most consumers who are interested in a tablet Windows "Real" will prefer to settle for the cheap atom devices instead of going for the Surface Pro 2 which is characterized by a price similar to that of ultrabooks and computers Mobile (And this is without taking into account the price of keyboards sold separately and dearly).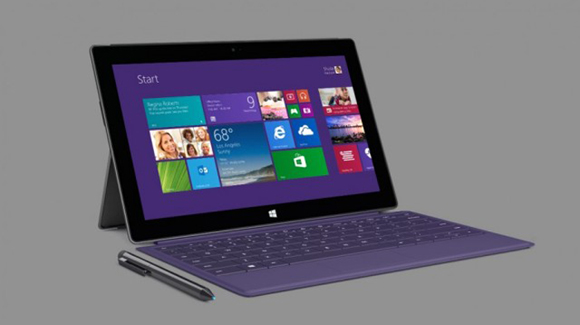 An impressive product, but with a price tag that is not easy to justify in the tablet market
What do you think about theSurface Pro 2? An innovative product or just a gimmick that costs way too much? Tell us what you think about the reactions!