The Taiwanese manufacturer is ahead of its competitors and announces a mini version (with a rather confusing name) for its latest flagship device
HTC's position in the world of smart handset manufacturers Continues to be undermined, But it seems that the Taiwanese company is still safe in its way and continues to retrace its steps last year.
After the launch of The HTC One M8, Which has retained many of the successful elements of the original HTC One, The announcement is now also on the updated mini version Who does not want to reinvent the wheel, but to improve the problematic points of the previous one.
A winning recipe or a quick way to perish? You are welcome to continue reading and judging for yourself.
The most prominent thing inHTC The new One Mini 2 is its exterior appearance, which is almost identical to that of the One M8, which is known to have received wall-to-wall praise for its elegant and high-quality design.
The One Mini 2 offers a 2-inch Super LCD4.5 screen with a resolution of 1280 × 720 pixels, including Gorilla Glass 3 cladding - this is a slightly larger screen than that of The first One Mini, But one that will still be able to wink at anyone who is deterred by the 5 or higher screens that adorn most of today's smartphones.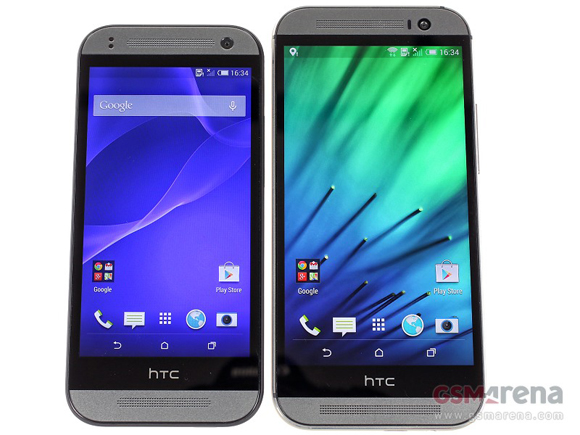 Many visitors have complained about the exaggerated length of the One M8 which has made the
Its use in one hand is challenging to the point of impossibility.
The One Mini 2 may be an alternative to anyone who wants the design, but not the physical dimensions
In the processor section you will find the One Mini 2 chip Snapdragon 400 Quadex A7 with maximum 1.2GHz speed and an Adreno 305 core, chip Snapdragon 400 with a pair of Krait 200 cores at a maximum frequency of 1.4GHz and Adreno 305 core in the original Mini One. Both chips are expected to offer very similar processing capabilities, with the advantage of the Mini Mini 2 mainly expressed in a modem that supports higher speeds at 4G networks LTE.
The One Mini 2 gives up camera With UltraPixel technology
And also loses the depth sensor and the double flash of his older brother,
All this in favor camera With higher maximum resolution and not too many pretensions and gimmicks
Additional upgrades offered by the One Mini 2 are an expansion slot for MicroSD cards up to 128GB (One Mini has no memory expansion slot included), an 2,100mAh enhanced capacity battery, chip NFC And more updated versions of the Android system (KitKat 4.4.2) and the Sense interface (version 6) directly from the factory - although it is worth noting that the One Mini has already received an official update to Android KitKat and should also receive the Sense 6 in the near future.
Another significant change in the One Mini 2 is its cameras - unlike the three One devices that preceded it, the Mini 2 abandons the relatively disappointing UltraPixel technology in favor of camera A more standard backdoor resolution of 13 megapixels. Advantage or disadvantage? It depends who you ask. What is certain is that the front camera is a significant improvement thanks to the sensor of 5 Megapixel as in the M8, compared to the 1.6 megapixel camera in the previous One Mini.
Nice to meet you - HTC One Mini 2
Operating System: Android 4.4.2 KitKat with Sense 6 interface
chip: MSM8926 Snapdragon 400 with four Cortex A7 processing cores at a maximum frequency of 1.2GHz
Graphics processor: Adreno 305 of Qualcomm At a maximum frequency of 450MHz
screenSuper 2 4.5-inch, 1280 × 720 pixel resolution
RAM: 1 GB volume
Internal storage: 16 GB
Micro SD expansion: Yes, up to 128 GB
Main camera: 13 MP, AF, AUTO Flash, FullHD video and photo in 30 frames per second
Secondary camera: 5 megapixels, full HD photo and video at 30 frames per second
battery: Lithium-Polymer, Sealed, 2,100mAh
Dimensions: 10.6 * 65 * 137.4 mm
Weight: 137 g
Expected price: EUR 450
Expected availability: End of May 2014
HTC One Mini 2 will arrive in stores at the end of this month and like its older brother, the One M8, will be available in gray, silver or gilt.
Will the One Mini 2 helpHTC Or will he continue to drag her to the depths? Tell us about your theories in reactions!