Rumor has it סמסונג Will present at the IFA exhibition in Berlin a smart camera based on its flagship smartphone, Galaxy S III. The camera is expected to contain a 16MP sensor, a 4.8 "Super AMOLED screen and run Android ICS
A leak that has been proven to be credible Message to GSMArena website That Samsung is designing a smart camera based on theGalaxy S III, And though he saw it with his own eyes. The device is described as a smartphone that is affixed to the back of the device camera Digital, and is expected to be 1.5-2 times thicker than the third Galaxy (i.e. 12.9-17.2mm), a fact that is quite impressive given the fact that the camera is expected to feature an X10 optical zoom.
The camera will include a Xenon flash, 16MP sensor, and will not contain physical buttons on the back of the device at all. It is not known which chip will run the hybrid, but it will most likely be a self-made Exynox chip. The screen will be a 4.8 "Super AMOLED screen, probably in HD resolution and the device will run Android in the version ICS. The right side of the device is expected to be curved, for a more comfortable grip.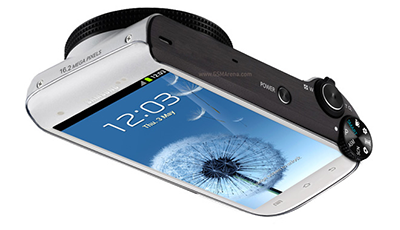 Illustration: GSMArena.com
Earlier this year Recorded סמסונג The name "Galaxy S Camera" as a registered mark, and it will most likely be the name of the product. The device will have two versions: a version with WiFi connectivity only, and a version with WiFi and 3G connectivity, although it will not be possible to make calls with the device.
The device will probably be announced at the IFA exhibition in Berlin at Samsung's 29.8 event. In the same event, Note II. Samsung has used the IFA exhibition many times before Wanted to introduce innovative devices, And there also announced its first tablet. The device will likely be sold both by US cellular operators and in the open market.
Recently also a company Kodak (Before she went bankrupt) andNikon View based cameras Android. Will smart cameras be the next hot thing, though the tendency is to abandon archaic devices like cameras, appliances GPS And media players for smartphones? Let's wait and see.