After countless rumors and leaks, the giant Korean company unveiled its first smartphone based on the Tizen operating system. Is the hegemony of Android in danger? Let's judge for yourself
After making her camera and smartwatch debuts, the Tizen system is finally coming to the real battlefield - Smartphones. This big step happens thanks to no other than Samsung, the poster girl of the Android system.
What was Taysen anyway?
Tysen is a Linux-based open-source operating system that was born after the premature departure of the Nokia and Intel MeeGo system. סמסונג She was one of Teisen's most prominent supporters at the beginning, and even integrated her Bada system into it last year. The result is a young operating system that strives to provide an accessible and uniform user experience across all the platforms it is targeting - from smartphones, tablets, computers Mobile Smart watches and multimedia systems in vehicles, smart cameras, smart TVs and more.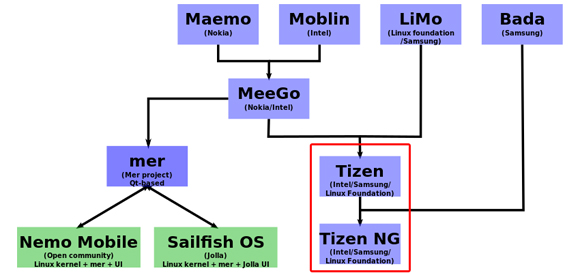 Tizen's Pedigree - A descendant of a dynasty of operating systems that did not survive the competitive market
As with other Firefox systems, Teysen also places great emphasis on support and development based on HTML5 And boast high results Which the operating system receives in the performance tests for browsers.
Galaxy Z - Galaxy without Google Is it still the same Galaxy?
Not surprisingly, Samsung's first official Teysen smartphone Maintains the branding and overall appearance of the company's super popular product family - the body of the device is square and not rounded, but the navigation buttons and physical home button at the bottom of the screen and the leather-like cover on the back of the device are almost identical to those in the company's latest Android products.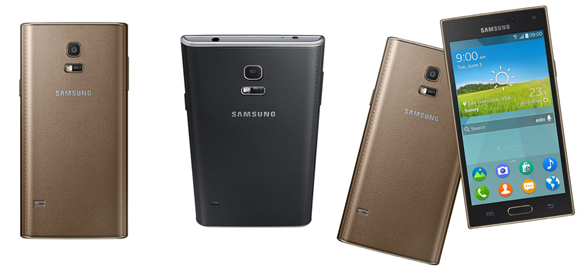 The Z offers a square enclosure, but retains most of the glacier elements
The user interface of the Tizen 2.2.1 system,Galaxy Z is similar to that of the TouchWiz devices, and it would not be an exaggeration to assume that a fair portion of average users will not be able to notice that the smartphone system is not Android.
In terms of hardware, the Galaxy Z feels like a combination of a flagship and an intermediate device - the smartphone is based on a quad-core chip with a maximum frequency of 2.3GHz (apparently this is a Moorfield Z3580 sealed chip of Intel, Which is also one of the driving forces of the Teysen system), with 2GB RAM, 16GB internal storage plus expansion slot, built-in fingerprint scanner, built-in heart rate monitor, chip NFC, infrared transmitter, connectivity support Mobile phones Fourth generation LTE and other nice features, but on the other hand you will also find a Super screen AMOLED 4.8 inches in size with a relatively low resolution of 1280 × 720 pixels and cameras of only 8 megapixels at the back and 2.1 megapixels at the front.
Properties of theGalaxy Z, then, will not really knock off the chair who has already seen the Galaxy S5 and its counterparts from the Android League. Will the price be the trigger that will convince users to adopt Teysen in their lap? Samsung has not yet disclosed this figure, so in the meantime we can only keep our fingers on something truly competitive.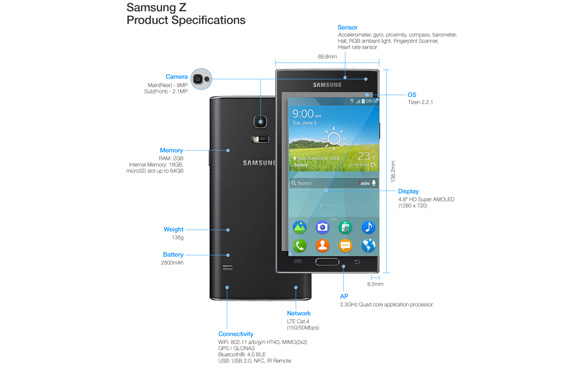 As in the days of the Bada (and the series of wave instruments), this time, too, it will help סמסונג Prices are winking in order to push forward
Its "personal" operating system?
The Galaxy Z will be offered in two colors, black and gold, and is slated to be launched over the next three months in Russia first - there סמסונג Will cooperate with local Internet giant Yandex to provide search and content services that will purport to replace those of Google Which can be found in the Android system.
It is likely that a warm reception in Russia will speed up the international launch of the "Galaxy Z, and probably also the launch of additional models.
Nice to meet you - Galaxy Z
Operating System: Tizen OS Version 2.2.1
chip: Not yet revealed - a quad-core Z3580 sealed chip with a maximum speed of 2.3GHz from home Intel או chip Snapdragon 800 / 801 quad-core at maximum speed of 2.3GHz from Qualcomm
screen: Super AMOLED HD, 4.8 inches, 1280 × 720 pixels resolution
RAM: 2 GB volume
Internal storage: 16 GB volume
Micro SD expansion: Yes, up to 64 GB
Main camera: 8 MP, AF, AUTO Flash, FullHD video and photo in 30 frames per second
Secondary camera: 2.1 megapixels, full HD photo and video at 30 frames per second
battery: Lithium-Ion, Interchangeable, 2,600mAh
Dimensions: 8.5 * 69.8 * 138.2 mm
Weight: 136 g
Expected price: Not yet exposed
Expected availability: Third quarter 2014, in Russia
Google has reason to fear? Hard to know
Samsung owes a big thank you to Google and its Android system, which, it seems, has contributed most of all to making the company the big leader in the smart device market - just as Google should
Samsung has never hidden its dissatisfaction with the situation in which its entire smart device industry revolves around and depends on Google and its Android system. Samsung strives to gain complete control over both the hardware and the software and believes that they have the resources to achieve this, and perhaps rightly so - the brandGalaxy The company is a very strong brand, and can attract the masses of consumers without the Android system that went hand-in-hand with it to this day.
Tysan's biggest challenge, like any young operating system, is of course gaining the support of content creators - Samsung is already investing many millions of dollars in trying to persuade developers to support Tysan ​​directly, with HTML5 and support added.Virtualization Solutions Which promise to support Android applications.
No doubt it will require quite a bit of time and a lot of investment, but it seems that סמסונג Today's is big enough to push forward a venture like Tysan ​​- the chances of this operating system becoming the next Android are minimal, but it may still have a right to exist in a particular market segment.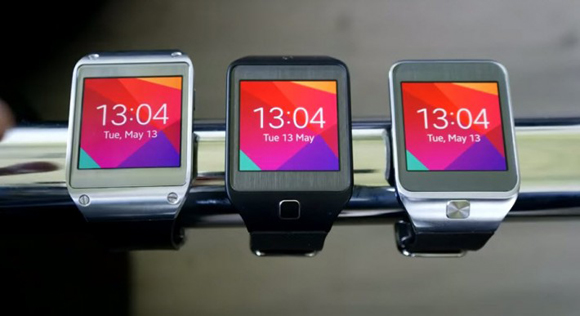 It's hard to believe that Samsung will stop producing appliances Android For the foreseeable future, but if aspiration
Creating a system with a quality and unified user experience on a wide range of product categories will come true -
It is possible that Tysen will gain momentum and steal some of Google's lightning
What do you think about theGalaxy Z? What pricing will convince you to consider Teysn instead Android Or iOS? Tell us in comments!