Sunny Communications, an importer סמסונג Mobile phones Launches the Galaxy Tab 10.1 in Israel and Samsung Recognizes Devices Galaxy Ace 2 for the price of 2 dollars
Fashionably belated, having already been launched in most countries in the world, comes the popular tablet of
סמסונג
Even to our tiny country. This is the Galaxy Tab 10.1 that is already available for purchase from cellular networks (Pelephone and Cellcom) and private stores, where the device will be available in WiFi version only, while in cellular networks the 3G version of the device is available that allows you to surf the Internet from anywhere, send SMS messages and make calls
Video
.
Please note that the device will be sold on the network Cellcom Will come with the Android system in the 3.1 version, when Cellcom Promises to update soon.
The Galaxy 10.1 has to compete directly with an Apple iPad that is already available for purchase in Israel for a while, but the tablet will need some acclimatization time (and some advertisements) until it can compete with pride. Meanwhile, in the mobile world, the iPhone 4S is making trouble for Samsung
Breaks sales and performance records
And apparently also biting off the company's flagship device, the Galaxy 2.

Device at $ 2
but
סמסונג
Does not intend to let Apple enjoy the spotlight and stand aside while Apple's iPhones sell like hot cakes. In order to pour some water into Apple's fire,
סמסונג
Decided to set up a sales store for its flagship device just a few yards from Apple Store in Sydney and equipped it with bright blue neon lights.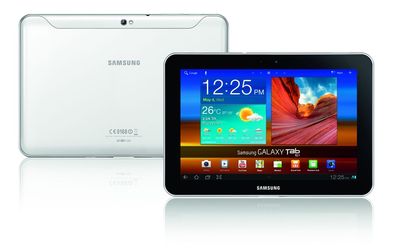 The new Galaxy Tab
Of course the stand is not just there to light up the street, and according to the Sydney Morning Herald, the store offers mechashri
Galaxy SS 2 for the price of 2 dollars only
Every day for the first ten customers who purchase the device. It does not matter how much you want to buy the iPhone 4S - no one can resist
Galaxy
S2 for less than ten shekels. In addition, the store offers very attractive refunds to customers looking to "upgrade" their iPhone to the Galaxy S2.
We hope that Samsung will "import" this campaign to Israel as well, in addition to the Galaxy Tab.