Computex 2014: Intel Announces New 14 Processor Family And Demonstrates Great Potential With טאבלט The reference is designed, thin and completely silent
For the past few years, the PC world, led by Intel and Microsoft, has been trying to get closer to the world of ultra- ARM - Touch screens, hybrid devices that can also be used as a tablet, a trend of minimization and weight reduction are just a few examples of trends that have taken over the market.
Despite several impressive attempts by various manufacturers to narrow the gap, the differences between x86-based devices and devices are based ARM They are still significant, but it looks like this is finally going to change in the coming months - thanks to the new Core M processor family Intel Now in the 2014 Computex.
Core M is the first sub-family In the Broadwell generation of Intel - The first processors to be based on production in an unprecedented 14-nm lithography, and are likely designed to replace the ultra-economical Y-sub-products that have accompanied us for the past two generations.
The chip giant has yet to disclose any technical details about its processors,Core M and meanwhile is content with general and bombastic data such as a 60 percent lower thermal envelope, a 50 percent smaller physical size and an improved performance of 20 to 40 percent - when it is not really clear against what and under what conditions the comparisons were obtained from these data.
The numbers that Intel presents are very impressive, but there is no doubt that they do not all exist together but separately,
And there is no doubt that very specific "adjustments" were made in order to produce them
It is possible to raise an eyebrow in the face of the lack of details and the detached comparisons of Intel, But it was able to illustrate well the great potential of the processors -Core M with a reference model that goes by the nickname Llama Mountain - מחשב נייד Hybrid (tablet and docking station-keyboard) with a 12.5-inch screen with a resolution of 2560 × 1440 pixels from Sharp, a thickness of 7.2 millimeters and a weight of only 670 grams (for a tablet, without the keyboard).
The thinness and weight of the Llama Mountain are very impressive considering its screen size, and if that's not enough the tablet will also be based on a passive and completely silent cooling system - similar to chip-based devices ARM.
Intel claims that the 10-inch version of Llama Mountain is even slimmer -
Weight of 550 grams and thickness of 6.8 millimeters
Information obtained by the network shows that the thermal envelope TDP of the Core M chips will be only 4.5 watts (compared to a shell of between 11.5 watts and 9.5 watts for the Y chips of the Haswell generation), while a thermal envelope for specific use situations (SDP - Specific Design Power) will be only 2.8 watts, with this difference may explain why Intel also introduced a multimedia stand for the Llama Mountain tablet that has a built-in fan and will allow a chip in the device to operate at a higher frequency, very similar The concept we saw AMD demonstrates more than a year ago.
Transformer Book T300 Chi - First spark of revolution
As mentioned, the Llama Mountain is not just a prototype but a reference model designed to help the various manufacturers bring to the market based products Core M as fast as possible.
The first to adopt the new technology is Asus Which unveiled the Transformer Book T300 Chi - a tablet with a docking station-keyboard in the best tradition of the Taiwanese company that like Llama Mountain offers a screen (with IPS panel) in size 12.5 inches and a resolution of 2560 × 1440 pixels, passive cooling, system Windows 8.1, 2GB or 4GB RAM, only 7.3 millimeters, and connectivity support Mobile phones Fourth generation LTE.
Bassos did not disclose when the T300 Chi should land on the shelves of the stores, but we know that Intel is promising that the first products based Processors The E-Broadwell Will come at the end of this year and prices will start, at least in some cases, less than 700 dollars.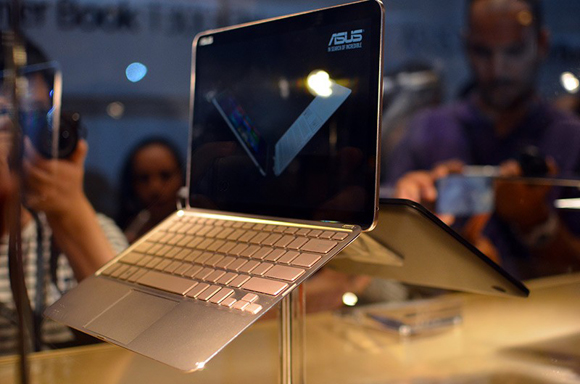 Intel promises first Broadwell-based devices this year, The postponements and difficulties
Accompanying the transition to 14 nm will not fall off the chair if in practice the Transformer Book T300 Chi
And its likes will reach the market only next year
Nice to meet you - Transformer Book T300 Chi
Operating System: Windows 8.1
chip: Intel Core M dual core architecture Broadwell, Lithography of 14 nanometers
Graphics processor: Not yet revealed, apparently based on GT2's core Intel With 20 execution units
screen: IPS 12.5 inches in size, 2560 × 1440 pixels resolution
RAM: 2 gigabyte or 4 gigabyte
Internal storageISSD - based hardware: SanDisk, Volume of 64GB or 128GB
Micro SD expansion: Not yet exposed
Main camera: Not yet exposed
Secondary camera: Not yet exposed
battery: 32 watts-hour
Dimensions: Thickness of 7.3 millimeters for tablet, thickness of about 7 millimeters for keyboard
Connectivity: Mobile phones With fourth-generation LTE support
Weight: Not yet exposed, probably 700 made in tablet mode
Expected priceNot yet known
Expected availability: November-December 2014
The Core M chips look, at least for now, like the fulfillment of some of the biggest dreams of PC world enthusiasts, but the big question is the price of it all - how much of the powerful performance that really characterizes Core processors will remain under such a minimal thermal shell , And will this performance justify a price tag that will undoubtedly be significantly higher than what can already be found today in Windows 8-based tablets and sealed chips. And in general - do consumers really want and need advanced tablets that run windows? These are questions that will undoubtedly determine the approach of Intel And the smartphone market in the coming year.