The Chinese media giant threatens to enter the big league with an advanced quad - core quad - based smartphone chip Its personal K3V2
For some of you Huawei It's just a weird word and particularly difficult to pronounce, but it's actually a huge Chinese company that is the second largest cellular communications infrastructure company in the world with over 100,000 employees and revenues of tens of billions of dollars a year.
One of Huawei's main ambitions lately is to break into the booming smartphone (and tablet) market, and it does not really bother to hide it - at CES 2012 we were impressed by what-Ascend P1 S Which claims to be the thinnest smartphone in the world, and now at the MWC 2012 exhibition, the Chinese company is unveiling the Ascend D Quad (the 'D' is short for Diamond) Unlocked Square cores that are not afraid to look directly at the flagship of the best players based in the field.
The Quad D is not The quad-core smartphone The only exhibition in Barcelona, But is probably the most unique of them since it is not based on the Tegra 3 chip NVIDIA But on chip Called Huaxei's K3V2 itself, which offers four core Cortex A9 at maximum 1.5GHz speed and an unknown graphics core that includes no less than 16 processing units. Yes, that's right, from today Huawei is also an actress in the systems market on chip, Congratulations.
B-Huawei Did not reveal too many details about their shiny new chip, such as the manufacturing process on which it is based or the type of graphics core it offers, but stated that it is a physically small chip that offers the lowest operating temperature on the market today, significant power savings and best performance. In the field - very ambitious promises, we hope that we will have the opportunity to put them to the test soon.
| | |
| --- | --- |
| | |
The impressive features of the Ascend D Quad do not end with a chip in it - the smartphone offers a 4.5-inch screen with a resolution of 1280 × 720, which gives it a pixel density of about 330 ppi, and also boasts a "most powerful 32-bit image processing engine", RAM in volume 1GB, system Android Ice Cream Sandwich, audio with support for Dolby 5.1 Surround, camera With a BSI sensor at maximum resolution of 8 megapixels, an 1.3 megapixel camera and an 1,800mAh battery, all compressed into a device that looks pretty good and has a reasonable thickness plus 8.9 millimeters.
Huawei added to the surprise that the D Quad will have a twin brother named Ascend D Quad XL, which will be identical in most parameters but will contain battery From a list of 2,500mAh that will probably add another millimeter or two to your profile, but will appeal to those of us who have difficulty leaving their smartphone for more than five minutes at a time (and those tired of loading the device religiously every day).
The company also mentioned an option for another future model that will offer a battery of 3,000mAh or more - The Droid RAZR Maxx Will not he be alone long?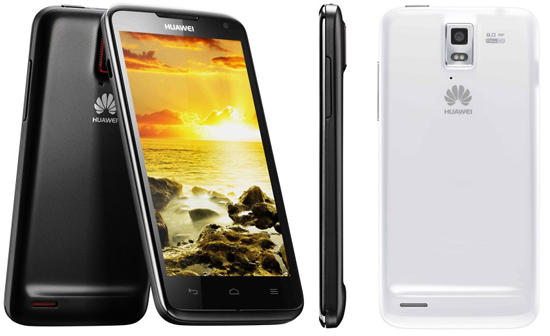 The Ascend D Quad will probably reach markets around the world during the second quarter of 2012, with Huawei promising prices to be as low as 15 to 25, סמסונג - A "wink" that does not really leave room for doubt when it comes to the company's huge ambitions in the world of smartphones.
The information and all the bombastic data mentioned earlier will indeed fit together properly - it may be that Samsung and everyone else really should start to worry.
First short impressions from the video device below: