Street market Consoles The Android is heating up, and as a result of the success of the OUYA console in fundraising at Playstation, PlayJam is also looking to cut a slice of this tasty cake from this market
The uniqueness of GameStick, the new PlayJam console, Concentrates on its compactness and mobility.
The whole console is built into a small memory-like device Mobile, And fits entirely into the wireless controller (Bluetooth) that comes with the console.
However, some compromises have been made to allow this, and the hardware of the new console is weaker than that of the OUYA. Instead of a quad-core processor there is "only" a dual-core processor, and the storage is done on servers cloud, But this lowers the price of the console to 79 dollars (instead of the 99 dollars which is the price of the OUYA console)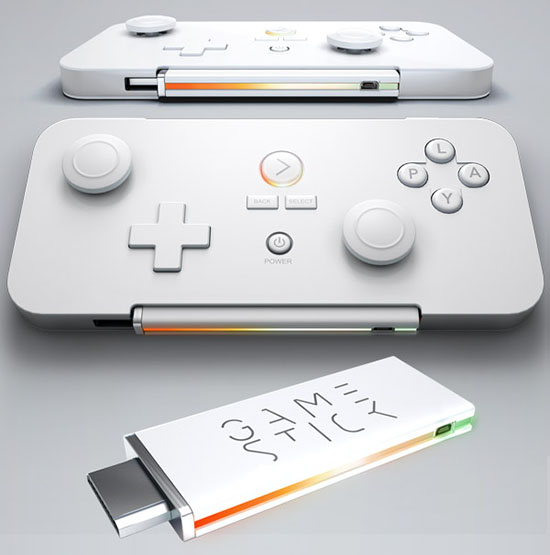 GameStick console - compact, designed and wireless
The console will not require external connections and will allow a single connection through HDMI, Which beyond the display will also provide her with work stress.
GameStick Trying to enter the lower segment of the new Android consoles, by lower pricing, and using a compact console that can be taken almost anywhere (as long as you have a TV name with an HDMI connection and wireless internet). A step above him OUYA Which began the revolution, with a cube console in an elegant and small design, and above it there is A new project on Indigo website called eSfere Trying to fill the top step with a console that is more rounded and hardware-like Galaxy Than a game console. In addition to the 3 processor, it should include 2 gigabyte, 16 gigabyte storage capacity Flash, Gamepad with a large touch screen and motion sensors, and more.
However, in my opinion eSfere's chances of obtaining the required funding are relatively low - especially considering that after ten days the project did not reach even a single percent of the requested funding ($ 390).
PlayJam understands that their biggest competition is OUYA: "We appreciate the risk we are taking by asking people who have already funded similar projects, but we are confident that the enthusiasm and value we invest in GameStick as well as the huge change it will bring to gaming will be clear to everyone in the near future. ".
With 29 days remaining until the end of fundraising at Kickstarter, and over $ 1,000 already collected, which make up seventy percent of the amount requested, it seems that PlayJam will be able to reach and exceed the target significantly.
Do you think there's room for another Android console? Are the benefits that GameStick offers make it preferable to OUYA? Share your thoughts with comments!