The impressive smartphone from the Chinese company and the new quad-core chip in which they are being tested justify the "strongest market"
Ascend D Quad, Huawei's new flagship smartphone, was one of the most impressive and exciting products we saw at MWC 2012, chip The mysterious K3V2 from the Chinese giant itself that operates it. Huawei said the chip offers four processing cores up to and including 1.5GHz Core Graphic with no less than 16 processing units but not much beyond that - which did not prevent bombastic statements that the K3V2 is the most economical and powerful chip in the entire market.
One can understand why the statements of Huawei They were received with a great deal of skepticism, but now the first performance tests of the advanced device and its chip are popping up on the network - and surprisingly, for the time being, the far-reaching claims are confirmed.
The NenaMark2 graphical performance test The Ascend D Quad (its graphic core is identified as Hisillicon Technologies Imerssion 16) is in first place with an average 62.75FPS result, passing both the Transformer Prime tablet and the "Tegra 3 and on devices based on chip The new MSM8960 Qualcomm And its Adreno 225 graphics core, even though they have a smaller screen resolution.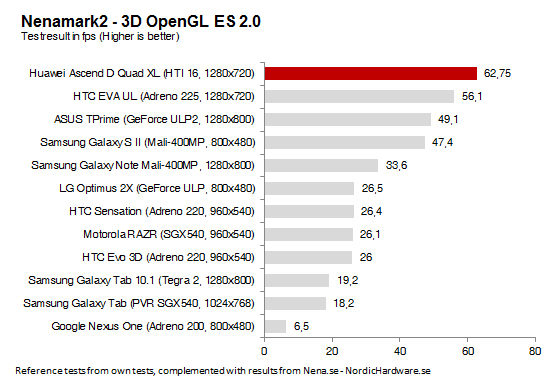 Even in the graphical performance test Basemark ES 2.0 The Ascend D Quad is in first place among the devices that have a screen with a resolution of 1280 × 720 (and by a considerable margin, it should be added), while In the general performance test Antutu The powerful smartphone came in third place, ahead of only a pair of Transformer Prime devices whose processing cores quickly switched to 1.8GHz and 1.9GHz.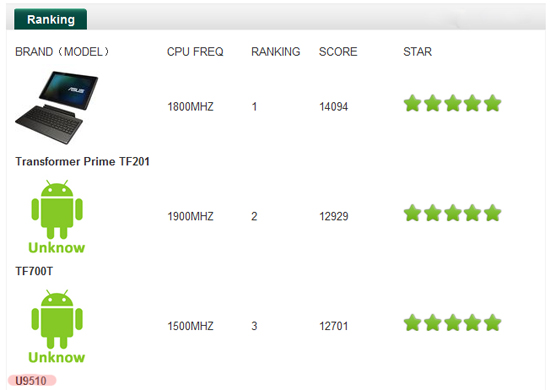 Ascend D Quad Performance Test Antutu
As always, this time too we will assume the role of responsible adult and note that it is too early to draw conclusions from such limited performance tests, but it is hard to deny that this is a very impressive opening for the Ascend D Quad and for the K3V2 chip, Pay of Advanced products From home Huawei, Who will try to conquer the global market after a long period in which the manufacturer concentrated on the cheap markets. If the promises of great economy of the K3V2 and an attractive price for the Ascend D Quad also prove themselves - there is no doubt that 2012 could be the big year of Huawei.
We will continue to explore the web for the next king in the smartphone market (and not only), and you are welcome to visitForum cellular and tablets And to keep abreast of everything new in this flowering field that is not resting for a moment.