The software giant's 'big announcement' is indeed big - Microsoft is making a leap into the world of tablets with a Windows 8 RT-based device and a chip Tegra 3 and device based Windows 8 Pro and Ivy Bridge processor
Two and a half years after the company's CEO Steve Ballmer held the tablet in his hands The HP Slate (Does anyone still remember him?) And declared, with his characteristic enthusiasm, that this is the next big thing - it seems that Microsoft is ready to try and conquer the world of tablets once again, now with Operating System Which was specially designed and designed for them.
Meet are you-Surface for Windows RT and Surface for Windows 8 Pro, a new pair of tablets from Microsoft Office Herself.
Surface for Windows RT, as the name gives away, is based on the windows system In the ARM version And offers a 10.6-inch "HDT resolution" ClearType screen (we bet on the standard 1366 × 768), a quad-core Tegra 3 processor from NVIDIA (probably like the one found inTablet 600 Presented by Asus At Computex), 32GB or 64GB storage capacity, microSD card slot, USB 2.0 connection, Wi-Fi connectivity with an array of 2 × 2 MIMO antennas, battery Of 31.5 watts and more.
As mentioned, Windows RT will not support software and applications created for an environment Windows But will also contain a set of software Office Created especially for her, as well as a classic "desktop" environment in addition to the metro environment, which can provide those who are not looking for a work horse but a leisure device.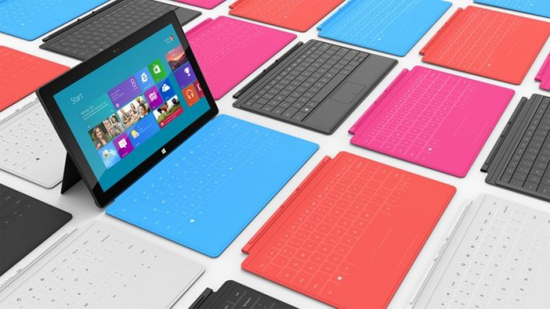 Microsoft brings some color to the world of tablets
Surface for Windows 8 Pro is the most impressive tablet of the two, with a "real" Windows system that will support all existing and based software, Core i5 processor Of the Ivy Bridge's ULV family, An 10.6 ClearType screen, and a generous FullHD resolution, volume storage Internal 64GB or 128GB, microSDXC card slot, 3.0 USB connection, mini connection DisplayPort, An 42-hour battery and more.
The shell of the two tablets is quite unique and is based on magnesium that has undergone a vapor deposition (PVD) finishing process, which gives them a shiny and attractive finish alongside reasonable dimensions - the Surface for device Windows RT offers a thickness of 9.3 millimeters and a weight of 676 grams, while the Surface for Windows 8 Pro is characterized by a thickness of 13.5 millimeters and a weight of about 903 grams.
| | |
| --- | --- |
| | |
| Tablet with the Type Cover keyboard | Tablet with the Touch Cover keyboard |
Both tablets have a built-in kickstand, and alongside them Microsoft will offer a pair of "smart" magnetic covers - one 3 millimeters thick with a capacitive touch keyboard and multi-touch support, and the other 5 millimeters thick and includes a full physical keyboard and touchpad. Next to the Surface for tablet Windows The 8 Pro will be offered even an optional touch pen.
A combination of the rear stand and one of the intriguing keyboard covers creates a small mobile workstation that looks like the spiritual successor of the various netbooks, although Microsoft is really No The first Which displays Such a device In The Last Weeks.
Surface for Windows RT should arrive at the stores near the official launch of Windows 8 in the autumn 2012, while the Surface for Windows 8 Pro should land about three months after launch. Microsoft does not yet disclose the expected prices of the new tablets, but declare that the prices will be competitive relative to the devices Windows RT (for the Surface for Windows RT, probably) and for UltraBocks (for Surface for Windows 8 Pro).
It will be very interesting to see how Microsoft will deal with competition from manufacturers such as ASUS and Acer Windows Their own 8, and how the new operating system and its attendant will face Dark And Google in this glittering market.