The new title in the series GTA Came out a few days ago, and we checked if the hype around the game is really justified, or if it is just another game with an open world
GTA has always been a successful series in what it does: whether it was an open world on a scale that was hard to believe was so great, a long and interesting plot or just a fun game to play - rare moments when people did not like the overall package of games GTA Suggested.
But after GTA IV, Rockstar decided to try different directions, and so we got LA Noire, Red Dead Redemption and of course, Max Payne 3. Now, Rockstar are back to the series that made them who they are today, and brought the GTA V.
Personally, I was not a big fan of the series, although I played almost all the games (yes, even the two-dimensional ones), but I always got tired of them quickly: I felt that the tasks were repeated in most cases, the world was not big enough to give a real world feeling And the plot just didn't hold me for more than 10 hours within the game. I found the plot, fascinating as it may be - superstitious and repetitive every game over - an underdog or a minority who fights against the establishment or someone else to succeed in his criminal life and reach a life of wealth.
For me, GTA V corrected all of these: the plot is definitely interesting and unpredictable, the world is bigger than any other game world I have seen in recent years and the missions like the plot, are also unpredictable and even ridiculous in many cases. But what surprised me the most was how many activities are available to me in the world, besides playing tennis and golf when I am not robbing banks.
The review was written following 25 hours of experience gained on the PS3 version of the game

We loved


--------------
A witty and unexpected plot that is well written, a huge world without a single boring moment, varied and fun missions, impressive graphics in relation to hardware and best of all - the shooting and driving mechanics have been improved from end to end.
We did not like it


--------------


The technical aspect could have been better, frame falls are not uncommon. On top of that, there are features and passages in the plot and characters that can be too much for some of the actors.
Verdict


--------------


Whenever they talked about computer games as art, they ruled out the whole industry in general and specific games in particular. I believe and am sure that

GTA

V is going to change this line of thinking, the critique of the modern US where, along with the perfect balance of pace in the game, the varied missions and not bad graphics will definitely make the game be remembered as a significant masterpiece in the history of the gaming industry.

the three Musketeers
B-GTA V You will live, experience and dominate the lives of no less than three characters, each with a completely different life: Michael is a millionaire whose family makes him miserable. Franklin is an African-American gangster who wants to stop being a toy criminal and try his luck as a bank robber. Trevor is a psychopath who runs a drug lab somewhere in the northern wilderness. I must point out that this time, their characters and lives do not feel too dramatic or ones that fail to be dramatic and become ridiculous because of lame writing. The opposite is true: the plot does present an extreme and ridiculous equivalent of Los Angeles, but does not sacrifice Development The characters throughout the game and makes us feel that the situations they are in feel serious and important, no matter how angular they are.
But what most contributes to the plot progression and your very identification with the characters is how well the combination of the three plot lines of Trevor, Michael and Franklin works wonderfully, individually or together. Without getting into spoilers, the game starts with a separate plot line for each of the characters, who really start collaborating towards the 12th hour within the game and from there it only gets better. The plot is integrated into the three characters as well as they are integrated within the plot, and despite the kitschy situation something of "they will cooperate out of lack of choice but along the way will learn to love each other", the plot still lets the characters shine and feel witty and serious writing, even though it tries to sell us The stick that should not be taken seriously. By the way, if you worry that the transition between the three characters will be cumbersome and inconvenient - do not worry, it is done smoothly and quickly between tasks, and is done almost immediately during a task, provided that both characters perform the same task.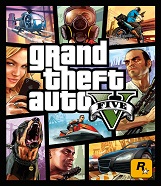 Grand Theft Auto V

genre: Third-person action
Distributing: Rockstar Games
Developer: Rockstar North
Game Platforms:
PS3,
Xbox
360 (The fate of the PC version is unclear
Release Date: 17 in September, 2013
Ifruit VS Drones
Most games of GTA Are known for their tendency to present extreme parallels of our reality. Whether it's a distortion of names of cities where the plot unfolds (Los Santos as the equivalent of Lod Angeles and Vinewood as the equivalent of Hollywood) or names of brands that border on ridicule to American society (Ammunation, Burger Shot and more). B-GTA V, the writers did a great job and instead of making brands just appear here and there during the game, they are integrated into the plot and the plot uses them to convey one of the most important and mature points I saw in GTA games: a critique of 21st century USA, and post-crisis America in particular Economic.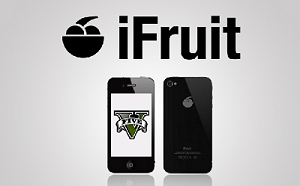 looks familiar?
To tell the truth, I think it would not be easy to find something in GTA V that does not criticize, mock or laugh at modern American society. Whether it is the clear parallel between Dark Google - Ifruit and Drones. Michael's family is a great example as well, one that perpetuates every American stereotype: the fat son of Michael who dresses like a rapper, plays shooting games all day on a TV screen that would not embarrass a movie theater and smokes weed all day; Michael's daughter, who's trying to shorten the road to success in Hollywood, whether it's hanging out with porn producers (who turn out to be drug dealers) or appearing in the equivalent of GTA To the "next big thing"; And of course there is Michael's wife, a woman who does not love her husband and takes advantage of every moment he is not at home to cheat on him with the tennis teacher or the yoga teacher.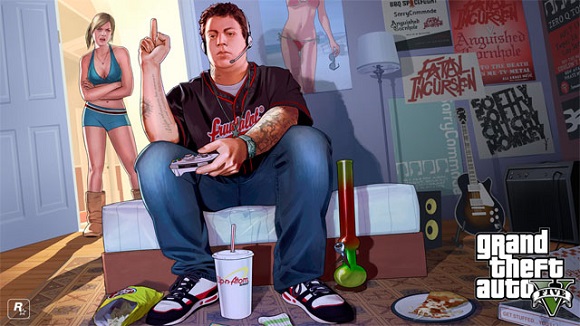 With children like that, who needs enemies…
Each character brings Michael and occasionally Franklin and Trevor to ridiculous, funny and witty situations on a level I have never seen in any game in the series, perhaps even in any game ever. The same situations can happen by the way, in other characters with other characters, which further empowers you Development The plot lines of the characters individually, separately and together and contributes to the feeling.
The best of the three worlds
One of the things that impressed me inGTA V Apart from the plot and the open world, this is how much Rockstar have learned from the mistakes and achievements of past games. The terrible shelter system of GTA IV and the shooting and driving system passed away. The old and jerky shooting system has been replaced by the simple yet sophisticated shooting system and shelter we saw in Max Payne 3. If you were afraid you would have to fight shelter, along with your fighting gangsters, don't worry - the shelter and shooting capture system has become simpler and smoother. In addition, the weapon wheel is back and allows for quick switching between weapons during combat - also, without problems or glitches. The driving system has not been neglected and has been miraculously improved - say goodbye to the colliding cars of GTA IV and peace to a more balanced, fun and realistic driving system. On top of all that, join the random event system from Red Dead Redempion, which causes unexpected events to occur around you. It could be a thief who took a woman's wallet or a truck full of money that you can stop and loot - it will almost always lead to a police chase full of adrenaline, at best games GTA.
Hello beautiful shelter, where have you been all my life?
All of the above are simple examples compared to the other features of the game, and to what extent GTA V feels like a mature experience in terms of its design. You can see that Rockstar really learned from past mistakes but also from past successes and made sure to incorporate inGTA V many components that make it an impressive achievement.