operational
Steam
: The sixth day
We crossed the middle line - will the second part of the operation days be more successful? We'll wait and see.
And today: the role players who will acquire the
Skyrim
In the coming hours they will be able to do so
In ILS 150
(Instead of NIS 225). Other role players may prefer the
Risen
, The spiritual sequel to the Gothic series, on the face of it -
In ILS 57
.
Strategists will be able to choose between
Plants vs Zombies
, The original (and addictive) strategy game of
PopCap
For thirteen shekels, And between package
Company of Heroes
, The strategy brand in World War II, which includes the original game and its two expansions, in
38 NIS.
You can also purchase the original game
For less than eight shekels
(recommended!).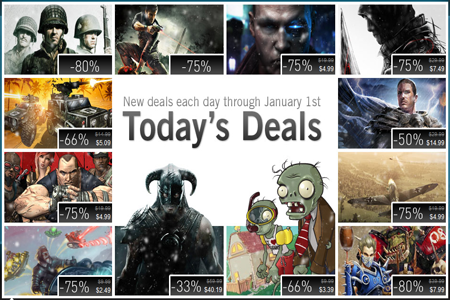 Simulators are also being represented today.
Wings of Prey
, The combat simulator that takes place during World War II, is offered for sale in
19 NIS.
It looks not bad, even for those who do not usually enjoy simulators.
As usual, we invite you to update us on your recent purchases here in comments or
In our gaming forum
.