operational
Steam
: the third day
Third Day of Christmas Deals at
Steam
Entered Wednesday night, and his operations will end in the coming hours.
Until January XNUMX, every day, more than ten games are offered at a significant discount. This is in addition to "package" promotions, which include dozens of games together (for example, a strategy package or a package from a particular distributor), which are valid throughout the ten days of the promotion.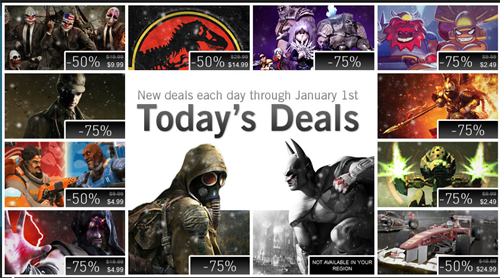 Today is a little less noisy, but if you are quick, you can still find pearls. Among other things you can buy the
Defense Grid: The Awakening
, Play
Tower Defense
Unique, upgraded, beautiful and original (with
GlaDoS
His own),
For less than ten shekels
;
You
Payday: The Heist
, The new action game,
For less than 40 NIS
;
You
Neverwinter Nights 2
, The wonderful role of Obsidian, and his two expansions
A little less than twenty
;
and you
S.T.A.L.K.E.R.
And continued with33 NIS Or the
Clear Sky
, God-
Prequel
,
Less than ten
. If you haven't played yet, you should - especially now that rumors say the screen has dropped on the series.
As usual, we invite you to update us on your purchases (or resent that you have received coal again) here in comments or
We are in the forum
.