Prepare your credit cards: Christmas specials on
Steam
, the first day
Valve
Is known for the great promotions it gives on the games distributed through
Steam
, Especially during the holiday seasons, and especially at Christmas.
As usual - until January XNUMXst, New Year's Eve, it offers over ten games every day at a significant discount. This is in addition to "package" promotions, which include dozens of games together (for example, a strategy package or a package from a particular distributor), which are valid throughout the ten days of the promotion.
Today, in the remaining seven hours, you can get, among other things, the two games
Portal
At $ 8 and a half, That is, at NIS 32
;
You
Max Payne
And the excellent sequel
At ten shekels each
;
You
Just Cause 2
, The open world action game,
For less than twenty shekels
;
And the mass role-playing game
Rift
In less than thirty (This is the game itself and a month of experience - the game requires a monthly payment later).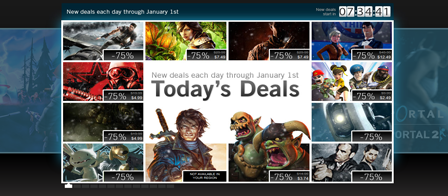 as well,
Valve
Began to chaperone players this year in an original way. Each day you will be given a number of achievements to complete from the games offered in the promotion, and for each task you complete you will receive a gift (in the form of a game or coupon) or charcoal (if you are unlucky).
When you have some charcoal, you can exchange them as a gift, or save them and put yourself in a huge raffle, at the end of which 1,150 users will win various games - and one more user in all the games offered at
Steam
. Yes, everyone.
Even if it's not particularly interesting to you, you should sign up -
Valve
Gives everyone a free gift today, even if you have not fulfilled any task.