as traditionaly,
EA Sports
Makes sure to release every two years, in addition to the traditional FIFA games, a game on a smaller scale. This, of course, is based only on that summer's big tournament.
World Cup Games of
EA
Have always been successful and even somewhat groundbreaking (e.g., the successful '98 version). In contrast, for the Euro Games, the European Championship tournament, luck never shone.
€ 2000
Was very similar to FIFA of that year. The 2004 version was lukewarm, and only four years ago we got a quality football game.
So I started my game on
"
Euro 2012 "with mixed feelings. On the one hand, I remembered the many disadvantages of the Euro games for their generations: the high price tag, sticking to the core games, and of course - the longing for clubs. On the other hand, when I remembered the previous version, I remembered it Peek - for the first time - into the excellent 09 version, which marked the turning point in terms
EA
.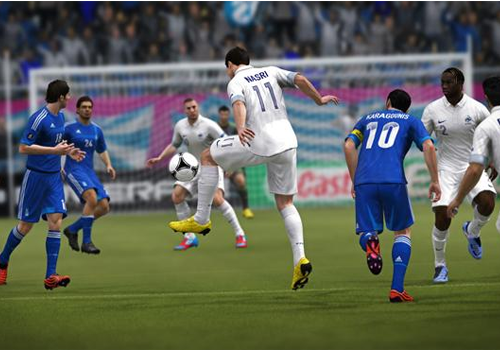 Expansion package only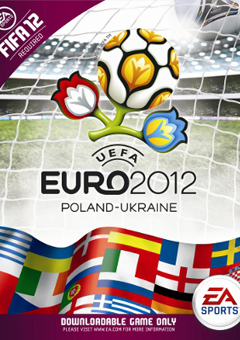 Uefa Euro 2012


genre: ספורט

Development company:
EA Canada
Company distributes:
EA Sports
Game Platforms:
PC
, PS3 and Xbox 360.
Are the minimum system requirements of
FIFA
12.
Operating System: Windows XP / Vista / 7
Processor: Dual-processorCore.
Memory: Gigabit RAM for XP, XNUMX Gigabit for Vista Or 7.
Graphics Card: כרטיס NVIDIA Jeepors 6800GT or Radeon ATI HD 3600.
If you want to play online, you will, of course, have to sign up for Origin, EA's digital store. You can sign up HERE.
The year has decided
EA
, For the first time, change the format.
Euro '12
It is no longer a stand-alone game, but is considered an expansion pack for FIFA, which requires the original game to run.
Unfortunately, this decision of
EA
It is a hint of meters to what every Euro player will receive. This year's version is not groundbreaking in terms of gameplay, which means: you will not get a glimpse of what FIFA 13 will look like.
DLC
There are advantages, like full integration with FIFA 12, which was very difficult to implement otherwise.
If you purchased the extension package, your main menu will have an option to "enter" the extension package, in which the menus - more or less - are the same as what you knew.
Yes, "Euro 2012" looks, for the first time, like a Euro game that does not suffer from a growth frenzy. B-
EA
Realized they had no ace this year, and decided not to underestimate the intelligence of the players with a "blown up" (but empty) game.
New game mode
To still try to save the situation, Canadian developers have added to the Euro version of the year a new game mode, which is there
Expedition
.
The idea is this: you choose one star from each team in Europe (and you can also import the
Virtual Pro
Yours from FIFA).
Next, you will be presented with a designed map of Europe, in which you navigate - with your fictional team - and choose which countries you are interested in challenging. The idea is to first select Europe's weakest teams to face (unfortunately, our national team will be a good choice).
Each victory against these teams improves your faculty abilities, as well as builds "ways" around the map that allow you to push the boundaries and play against stronger teams. It works both ways: a loss can lead to the destruction of roads, which will block your access to them.
Forced replay
The game takes care of rewarding you for victories, and when you win a team once, you get one of its players, which you can place in your squad instead of one of the guys, or reject it outright. However, to get one of the stars of the team you played against (and not just one of the players), you have to beat it Three times. The game forces you to play boring replays, even against less powerful teams.
There are more issues with this new game mode. For starters, it's much less interesting to build a fantasy team (which is not even made up of great past players) than to play with national teams, especially when it's a really Sisyphean job.
When you think about it, it is also extremely limited. If your team wants to get better, you have to replace the random players with the stars of the competing teams. So where is the process that you go through with the teammates?
It became clear to me, later in the game, that the players standing next to you - in the initial squad - do not improve their playing abilities at all over time.
Missing a game
EA
As mentioned, do your best to get back to playing
Euro '12
, And especially in the new game mode. Precisely because of this, you will receive - for each of your victories - also a virtual picture of the team you defeated. 180
תמונות
These put together a pretty cool mosaic (the problem is that it should spur you to play three times against each opponent ..).
To sum up: Too bad.
EA
Missed an opportunity to make the
Expedition
For a game mode that will be interesting to play.

The wait is long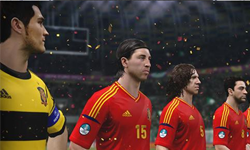 As usual, the main game mode is the Euro tournament itself, which allows you to choose one European team and win the championship with it. No far-reaching changes have been made here (and this time I do not blame the Canadians ..), but - again, as usual - I still have complaints.
I entered the game, and chose to play with the English team. As you may recall, I was drawn at home with Ukraine, Sweden and France. I was very interested to see the progress of my rival teams at home
;
But I was a little less interested in what was going on in the other houses.
Unfortunately, to play my first game against the French, I had to wait more than a minute to watch all the simulations that the game
operation
In the results of the other games from all the houses. Great boredom.
After overcoming the waiting anguish, and having already managed to play two games at home (out of the three), I was faced with a fascinating situation: the Ukrainians, who played in the corresponding game, had to lose in order to advance to the quarterfinals. My game would have been suspenseful, no doubt, but it could have produced real drama if only the game had presented me with updates on what was going on in the corresponding game.
This is a small addition that upgrades the game experience, and has been appearing in FIFA titles for many years. If so, what was the problem with incorporating it into the expansion pack?