Gaming
Steam: End of Year Deals are here
The virtual game store does not miss a reason to party and announces a wave Special Deals For the end of the civil year - and this time you can vote and influence the operations
Get updates from us all at TelgramJoin the channel now
As the end of a civil year, the equal performances of the gaming world come to us.
The campaigns will take part in almost all of the major titles that have been published in recent years, as well as those that came from the community's requests, so that every day you will have the opportunity Choose the next operation and influence.
The offers will end with 5 / 1 / 2013 and will be updated daily.
Games on sale
operational flash - Flash Sales
It is also worth paying attention to the flash operations in sets that surprise you occasionally with titles that are wanted for a short time only.
The last title in the series The Counter-Strike: Global Offensive is now sold at half price and rising 7.49$. We recommend that you add a few pennies and purchase the whole series at an amazing price of 9.99$. recommended!
Another game worth paying attention to is the excellent XCOM: Enemy Unknown, which is sold at a discount of 33% and costs 33.49$. recommended!
Game collections of distributors
Every year, game distributors offer game packs at a price operation, Which contain a variety of quality titles.
First and foremost, the eyes immediately focus on THQ's collection Which announced bankruptcy this week, But to our delight, she does not lock the offices and go home, but continues to develop the titles she has begun working on. The package offered by the company is one of the most similar packages we have seen recently on sets and it is no wonder that it stands at the top of the most sold packages. The package costs 24.99$ In contrast to the " Humble Bundle The latter, which contained 7 games, here is a respectable collection of no less 22 titles for the company. recommended!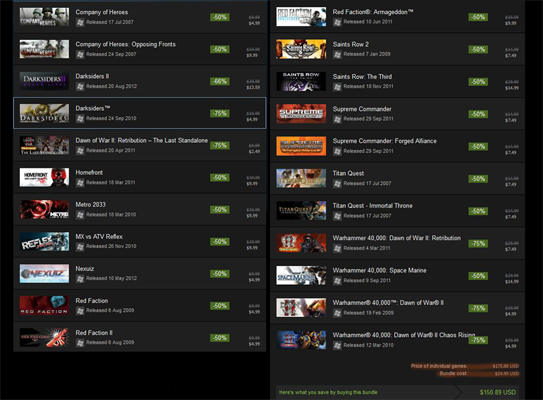 You missed the The Humble THQ Bundle? You have another chance to buy great games for a fraction of the price
Unlike THQ, whose package is highly recommended, I did not like the fact that the rest of the distributors removed some of their good titles from their collections so that they could sell them separately or because they are just greedy. The others simply offer relatively old games and are not so popular today and the price of the packages does not pay.
In GamePro Catch up on everyday gaming news.