Technology
Golan Telecom takes down the gloves: all included in the 49 NIS a month
The young cellular operator has to meet aggressive recruitment targets in order not to lose its guarantee fee and offers a particularly lucrative price (for half a year) to mobile operators
Get updates from us all at TelgramJoin the channel now
Golan Telecom, the new non-virtual operator that was one of the architects The cellular price revolution in Israel, Is in the race not only against suppliers Mobile phones Competing but also against time - if it does not reach the user recruitment targets set for it as part of its winning bid, it will "lose" hundreds of millions of dollars deposited as a guarantee.
This constant pressure is working, it seems, and now The company announces a new operation That once again breaks all the cellphone market conventions and standards - an all inclusive package at a cost of NIS 49 per month (instead of NIS 99 per month) for six months, for passengers from other companies.
As part of the promotion, which starts today and continues until 21 in January 2013, consumers will receive unlimited calls and messages (as part of the Reasonable Private Use Rules), an 3GB volume pack (over which no additional charge will be charged, but the speed of browsing will be significantly reduced) and free calls to landlines -53 countries - all for NIS 49 per month, for the first six months.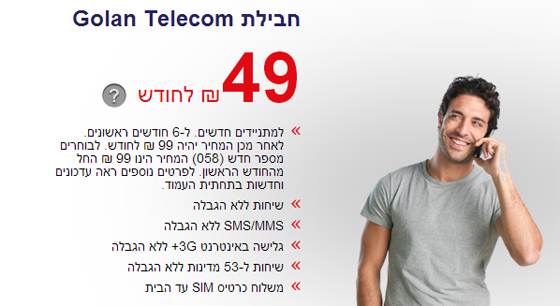 The best deal in the country right now?
The offer is intended for customers who move their number from another provider (as opposed to new customers who join Golan Telecom directly and who will not be eligible for the offer price), where the company defines "new movers" as customers who will remain subscribers "for a minimum period of six months", that is, throughout the promotion period.
It is not clear whether this condition will be enforced on the Golan Heights (if a customer wants to move to a company Mobile phones Otherwise before the end of the six month offer for which he is entitled to Golan Telecom - will a retroactive payment of NIS 99 be charged per month?), But in any case it is a particularly lucrative deal that also gives users the ability to choose whether to stay in the Golan after the end of the offer, or to join another company on searches Another very attractive operation.
Want to join or be safe? Tell us what you think about the reactions!