Technology
Google to acquire Waze at 1.3 billion (Updated)
Reports about the acquisition of the Israeli navigation application by Hank are receiving another positive turnaround, with the chances of signing a deal between

Waze

Google is growing stronger
This is not a secret: For several months now the network has been flooded with the knowledge that my founders are
Waze
Administrators
Negotiation
With giant companies such as Google and Facebook, regarding the purchase or implementation of the application in the services of the companies. Even Apple
She was interested
Seriously in buying the application, although the contacts between the companies have reached a dead end. Now, it looks like the giant
Google
Managed to "win" the tender for the application - and position itself in a very convenient position for a close purchase that is brewing.
The fact that the Israeli application is worth more than $ 1 billion is also not new, although now it turns out that this is a deal that exceeds all expectations and is close to a huge sum of 1.3 billion. The sharp-minded among you must have already understood that the deal will become my founders
Waze
With a fortune of tens of millions of dollars each.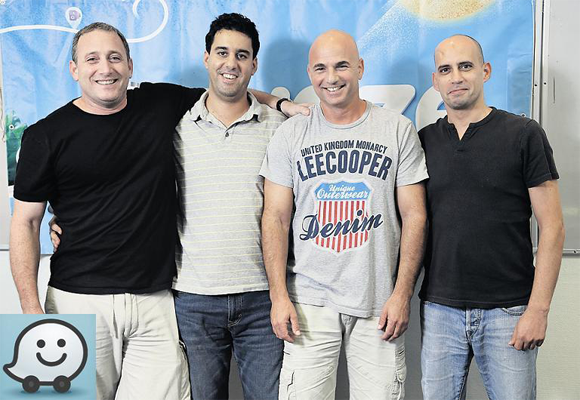 Arranged
To be exact, the chief technology officer of the company (
CTO
) Ehud Shabtai will earn 78 million dollars, while President Uri Levin will earn 38 million dollars. Research and development managers Amir Shinar and his brother Gili Shinar will benefit from the deal together, 65 $ 1 million.
At the same time, the application continues to grow, and as of today, approximately 50 million drivers use it regularly. In the company
Waze
Insist that its employees who are employed in Israel will continue their work even after the acquisition, which Facebook opposed, although it is possible that a people
Google
A compromise was reached. This can be explained by the fact that unlike Facebook (which shut down most of the companies it acquired, including some Israeli companies), Google has a relatively large presence in Israel and also a center
Development
Significant enough for her.
Unfortunately,
Google
and-
Waze
Are still not officially responding to reports about the upcoming acquisition, but based on the reports, the Israeli group seems to have a very good reason to smile.
updating: The many reports turned out to be correct, when the deal between the search giant was officially signed on 11.6.2013 Google Company Waze The Israeli. It is estimated that Google wants to become a monopoly in the field of maps and to assimilate the social possibilities of Google Waze In its services. The deal is likely to amount to 1.1 billion in cash, which is considered to be slightly lower than the estimates, but it is nevertheless the most expensive app in the world ever sold.
Israeli society responds for the first time regarding the deal: Google Share the same vision of developing a global map service that is updated in real time by local communities. We are very pleased with the cooperation, "said CEO Noam Baradin. He added that "we will work together with our maps team Google And we will create the best maps that can be found. "Google executives say the company will take into account its employees, especially the driver community that uses the application, in order to cultivate the application as much as possible.
Get updates from us all at TelgramJoin the channel now