Technology
McAfee will secure your photos on Facebook
The American security company has developed in collaboration with Intel A special add-on that will make the photo sharing experience on the world's most popular social network safer
These days, no one does not know or use Facebook regularly - but with all the advantages offered by this social network to its users, the most significant and most significant disadvantage is
Security
The defective
, As well as privacy may also often be compromised by malicious users. For Facebook, it should be noted that the company has been trying hard lately
Defend as much as possible
On the users, McPhee is now joining efforts: with an innovative plug-in that may make the way we share the pictures with our friends (and the world at large) much more secure.
Using the plugin, called
'Social Protection'
, Among other things you can make a very selective determination of who is allowed to view the images you upload - while the unique and most useful option of the plugin will prevent users from downloading the images we posted to the computer while eliminating the screenshot function
(Print Screen)
When you are viewing pictures. If a viewer decides to trick and shoot the screen, McAfee's extension will display a lock to explain that it can not be done.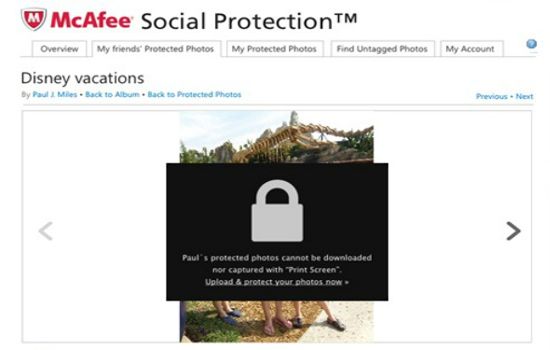 Trying to download a picture from Facebook? With 'Social Protection', you can forget about it
Please note that when you choose to use the plugin, your images will be transferred from the "public" Facebook servers to the company's secure servers
Intel
. Once you have applied the
Social Protection
On your account, your photos will appear in front of others in a slightly blurry way that will make it difficult to identify those present or objects in the picture - until your friends install the plugin.
In addition to saving images, the plugin can also keep your identity safe. With Face Detection enabled, it will alert you immediately if any of your friends upload to Facebook
תמונות
In which you appear, but not tagged.
Unfortunately, the
Social Protection
Not yet available for installation - when McAfee indicates that it will be available for download for browsers אינטרנט Explorer, Firefox and Chrome in the coming weeks. A version that will support computers Mac As well as mobile operating systems
iOS
And Android will also be launched, but only towards the end of the year.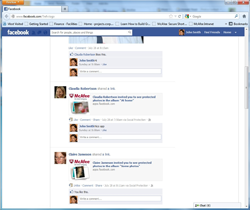 That's how it will look to your friends. Click to enlarge
This is definitely an add-on that can and should be very useful for each and every one of us, with no doubt that we can make sure our pictures do not reach the wrong hands. The fact that close friends need to get "OK" to view our photos even without having to save the pictures on their computer makes the plugin very efficient - since even if a close friend's account is hacked or someone else is not using it, Anyway.
If you choose to install the plugin (when launched of course), you can do this from the page
Designated
; But keep in mind that the need to install an add-on to view your photos may deter most of your friends from viewing them, at least in the first few months of launching. Bottom line, people who are interested in your photos will be able to get them even though you have installed the
Social Protection
, Using a simple photo with
camera
Externally high quality - so it seems that at least in the meantime, you can forget about 100% protection.