Technology
Will pro-electric memories obfuscate RAM memories?
A fast memory that consumes less 99 may be the next big thing
Get updates from us all at TelgramJoin the channel now
Recently, we have come to know a number of innovative technologies that have the potential to replace RAM (Random Access Memory) Which we all use today - Memories Phase Change וMemories STT-MRAM, For example, promise to be cheaper and faster than anything we have seen so far.
Now we hear about Another potential competitor Who wants to send the Memories God-RAM Into the nursing home of the computer world - this is the pro-electric memory, which is more commonly known as FeTRAM (PA Ferroelectric Transistor RAM).
Like ferromagnetic material, pro-electric material is a nickname for a material that changes its polarity when applied to an electric field - an ideal feature for creating "0" and "1" modes that form the basis of any digital circuit.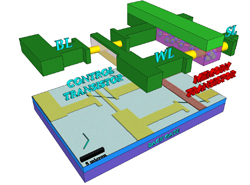 Faster and more economical? We are always in favor
Scientists at Purdue University have used this interesting feature to create a transistor made up of nanowires made of silicon and pro-electric polymer.
The new transistor should allow for non-volatile memory, which maintains its "off" state, which can be faster than the current ones, more reliable and more cost-effective - scientists responsible for the development claim that FeTRAMs can consume 99 Percent less supplier (explanation for this impressive figure is not possible, unfortunately) than memories Flash Modern.
Another advantage of Memories The FeTRAM is that they can be manufactured using the current production techniques - CMOS (Complementary Metal Oxide Semiconductor) technology, which certainly increases the chances of Memories These are to reach commercial application.
Memories that are based on pro-electrical materials are not a new invention - Memories FeRAMs, which are usually based on capacitors (rather than transistors) have been in commercial use for many years. The great advantage of Memories The new FeTRAM is able to read the information stored without harming it - which is not possible in the framework Memories The "simple" FeRAM.
Like any new and exciting coming to us from the depths of one lab or another, this time it is clear that it will take a long time for this technology to reach the stage where it is available for real use, so we would not recommend you throw away Memories Your DRAM is in the trash, for now.